Here's a snapshot of three rewards programs that have proven effective in the field.
Saia LTL Freight
Employees: 9,500 workers, including more than 4,800 drivers
Based in Johns Creek, Ga., Saia's director of safety, Karla Staver, maintains a national incentive program geared toward injury prevention. Among the program's many components:
Safety coins that function as tire-depth gauges, given in 2017 to all drivers to challenge them to be safe on the road.
Million-mile rings given to drivers who have driven one million cumulative miles without any accidents. "Drivers who earn the ring always make sure you see them," Staver said. "It's a brotherhood to them."
iSaia gives employees points each time they receive positive comments via an online portal from customers or co-workers. Workers can redeem points for prizes, including laptops, cameras or gift certificates.
City of Kansas City, Missouri
Employees: 1,100 drivers and coaches
Kristin A. Danner's safety program spans multiple departments within the city, including Parks & Recreation, Public Works, Neighborhoods and Housing Services, General Services, Aviation, and Water Services. A few components of the city's incentive program include:
Annual recognition breakfast for coaches and drivers with the best safety records of the year. The catered event includes the city manager, department heads and city council members who personally greet and thank attendees.
Letters and certificates signed by the city manager. "It costs us next to nothing, and yet it means so much to people," Danner said.
Orange socks that say "Safe Driving Starts Here." These traffic cone-orange socks are such hot commodities that even the city manager asked how he could get a pair.
A traveling trophy awarded to departments with outstanding safety records. The trophy, featuring a steering wheel, has become something of an icon as employees organically post and share pictures of themselves with the massive trophy.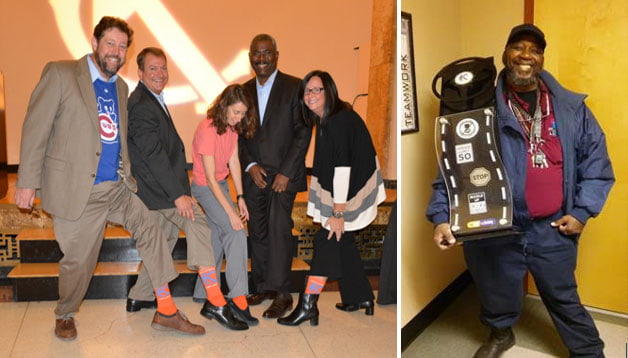 City of Kansas City employees show off their orange safety socks at an annual breakfast recognizing the city's safest drivers and coaches (left). A Kansas City bus driver with the "traveling trophy," awarded quarterly to the department showing the most improvement. Source: City of Kansas City, Missouri.
Pepsi National Brands
Employees: 3,500 workers
The cornerstone of Pepsi's rewards program is the challenge coin. Modeled after the challenge coins used in the military, Pepsi awards the coins to drivers who demonstrate the best safety records, based on Lytx data. Each trimester, each of the company's 16 distribution centers receive a batch of coins. The coins are given out to roughly 10 percent of the workers, making them relatively scarce and, therefore, more valuable. Employees can cash the coins in for swag, such as headphones or apparel.