DriveCam Overview
Lytx DriveCam: Intelligent dash cam technology
Powered by machine vision and artificial intelligence to provide a clear, accurate, and timely picture of fleet risk -- including distracted driving.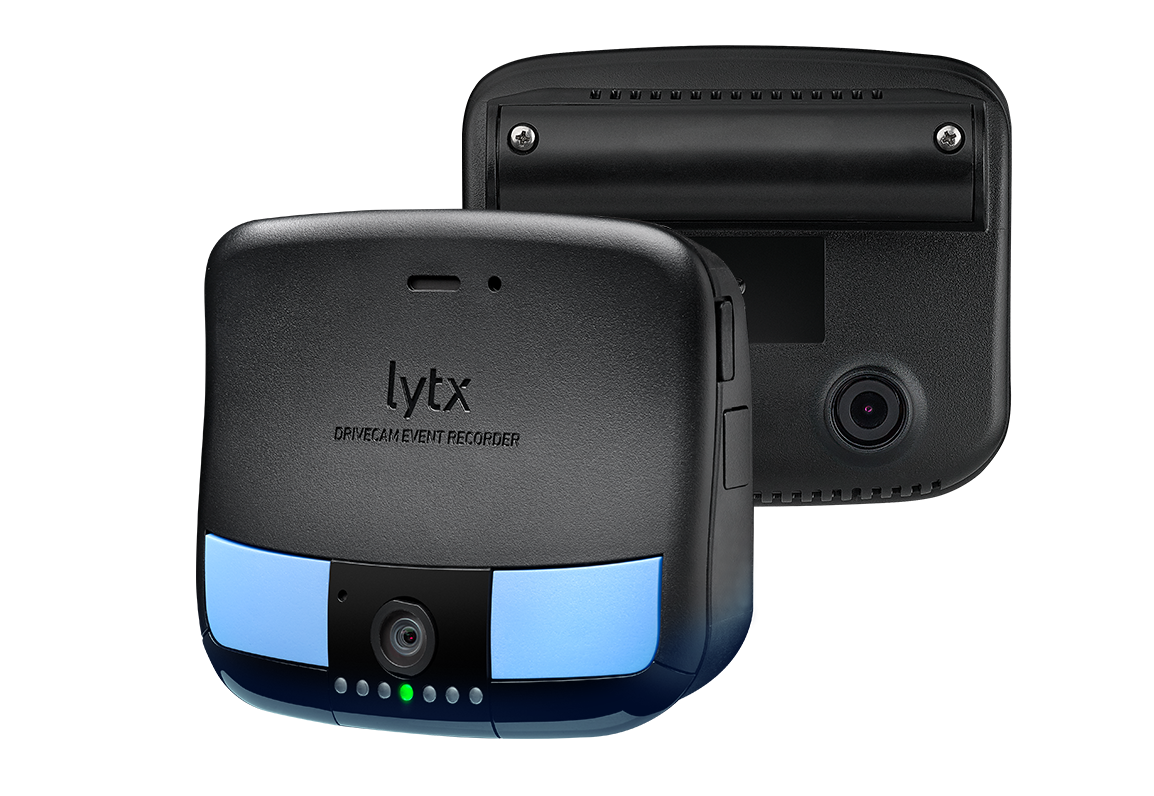 Intelligent fleet dash cams, built to last
Our state-of-the-art DriveCam® camera goes beyond traditional dash cams by pairing machine vision with artificial intelligence (MV+AI) to accurately identify and categorize the moments that matter, allowing you to see risk as it occurs. And our dash cam technology can help you quickly detect and deter distracted driving, the biggest safety issue on our roads today. Our rugged, reliable hardware does it all in a single, integrated device that simplifies installation and eliminates connection issues.

The DriveCam camera can be configured to offer:

INTEGRATED MV+AI
Advanced Machine Vision and Artificial Intelligence capture and accurately categorize risky driving behaviors.

CONTINUAL VIDEO
Records up to 400# hours of reliable, continual video.

REAL-TIME, IN-CAB ALERTS†
Light and audio alerts notify drivers of their risky behaviors, helping them stay focused on the road.

RISK DETECTION WITHOUT RECORDING
Manage distracted driving and other unwanted behaviors without recording video of the driver.
LIVE STREAMING
See what's happening in and around vehicles in near real time.

SUPPORT FOR SIDE AND BACK-UP VIEWS
Connect up to four additional cameras using the Lytx Hub™ Adapter and additional SF-Series or third party auxiliary cameras.

BUILT-IN DRIVER ID SOLUTION
Quickly identify which drivers are using your vehicles at different times without installing additional equipment.

ECM CONNECTED
Captures speed, fuel, and vehicle data directly from your vehicle.

WIDE-ANGLE DUAL LENS
Our wide angle, dual lens shares the big picture — on the road and inside your vehicle.

MANUAL RECORD BUTTONS
Enables your drivers to proactively record video when needed.

LOW-LIGHT VISIBILITY
High lumen infrared LED lights provide clear visibility, even at night.

INTEGRATED MICROPHONE
Sound recordings from inside and outside the vehicle ensure that you'll have all the details when an incident occurs.
How it works
See how the Lytx DriveCam event recorder operates to help you proactively detect and deter risk.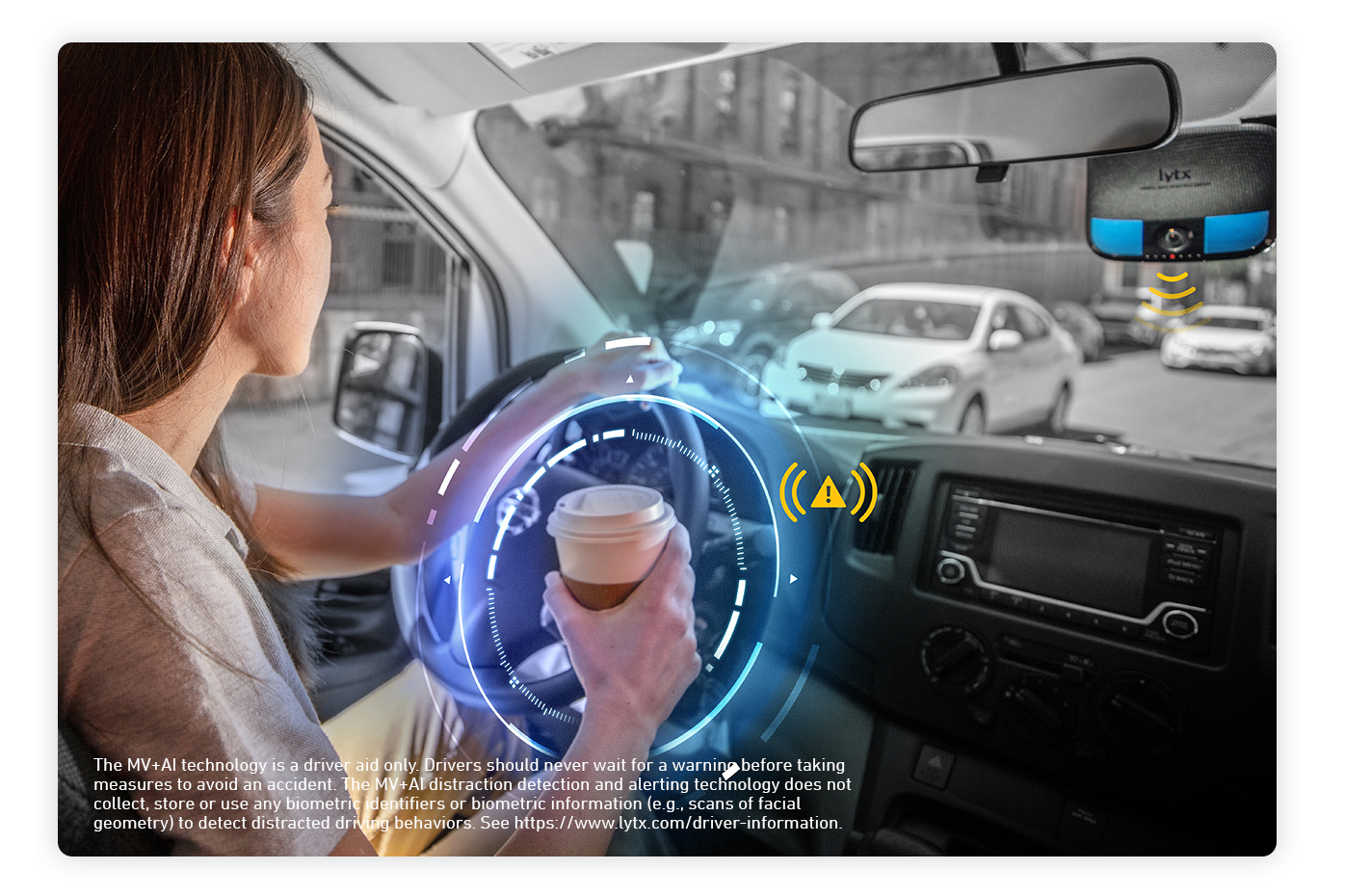 Reduce distracted driving with machine vision and artificial intelligence-enabled dash cams
Our dash cams use machine vision and artificial intelligence (MV+AI) technology to accurately detect the risky and distracted driving behaviors that make the greatest impact on our roads today. Our DriveCam Event Recorders provide audio and visual alerts to help deter risky driving habits in the moment by prompting drivers to immediately correct risky behaviors, including cell phone use, general inattentiveness, eating or drinking, smoking, seat belt use, speeding, failure to stop at intersections, lane departure, and following distances. Get maximum, sustained results with minimal managerial time and effort.
LEARN MORE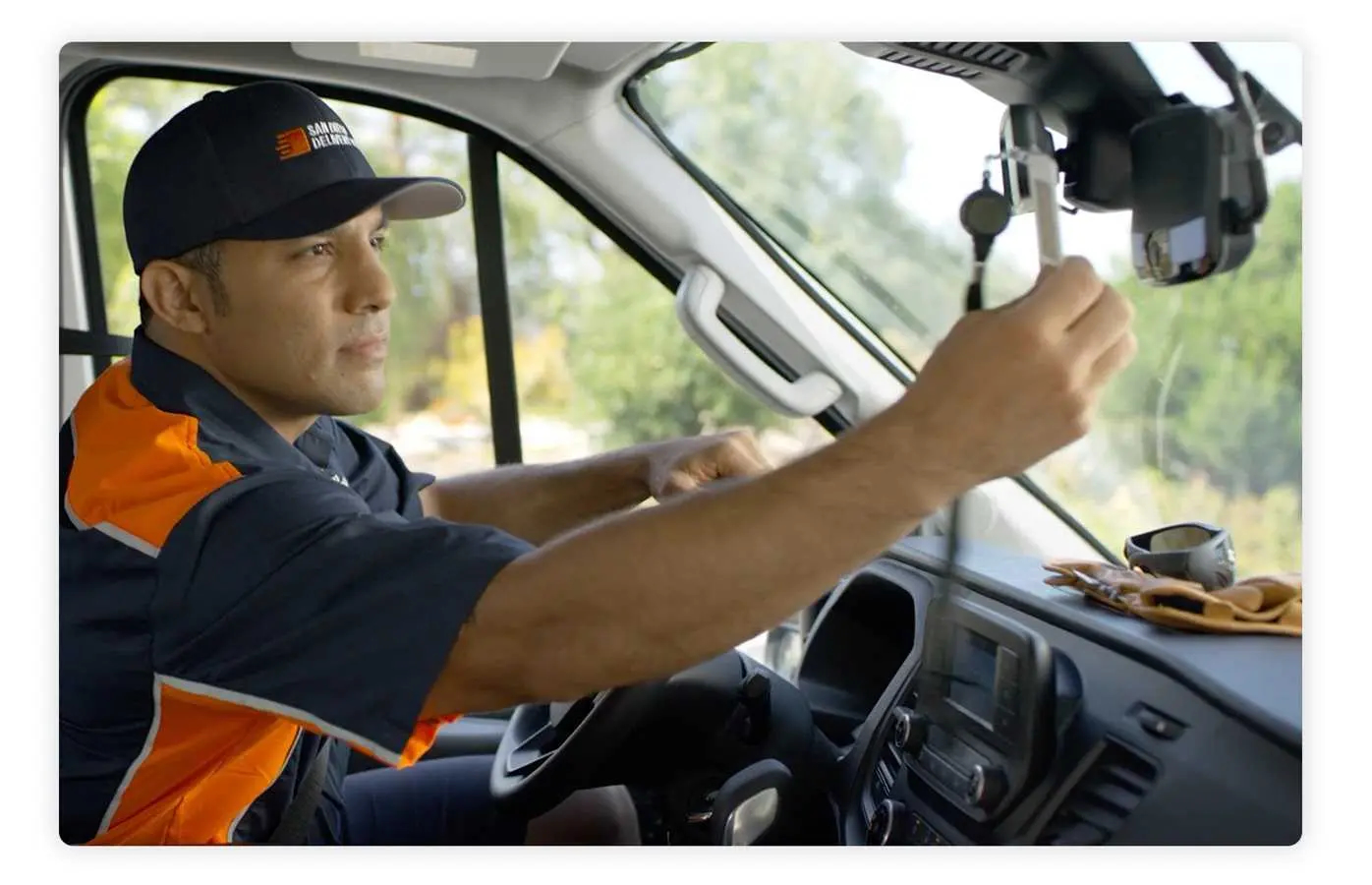 Know who's driving which vehicle at any time with Lytx Badge
Manage driver-vehicle assignments without additional hardware, accessories, or added costs using Lytx Badge, a Driver ID feature offered through your Lytx account. Lytx Badge allows fleet managers to create driver-specific QR codes that can be printed or sent electronically to mobile devices. When your driver starts their vehicle, the DriveCam Event Recorder sounds an audio alert that prompts them to scan their code, connecting the driver's name with all vehicle data from their trip.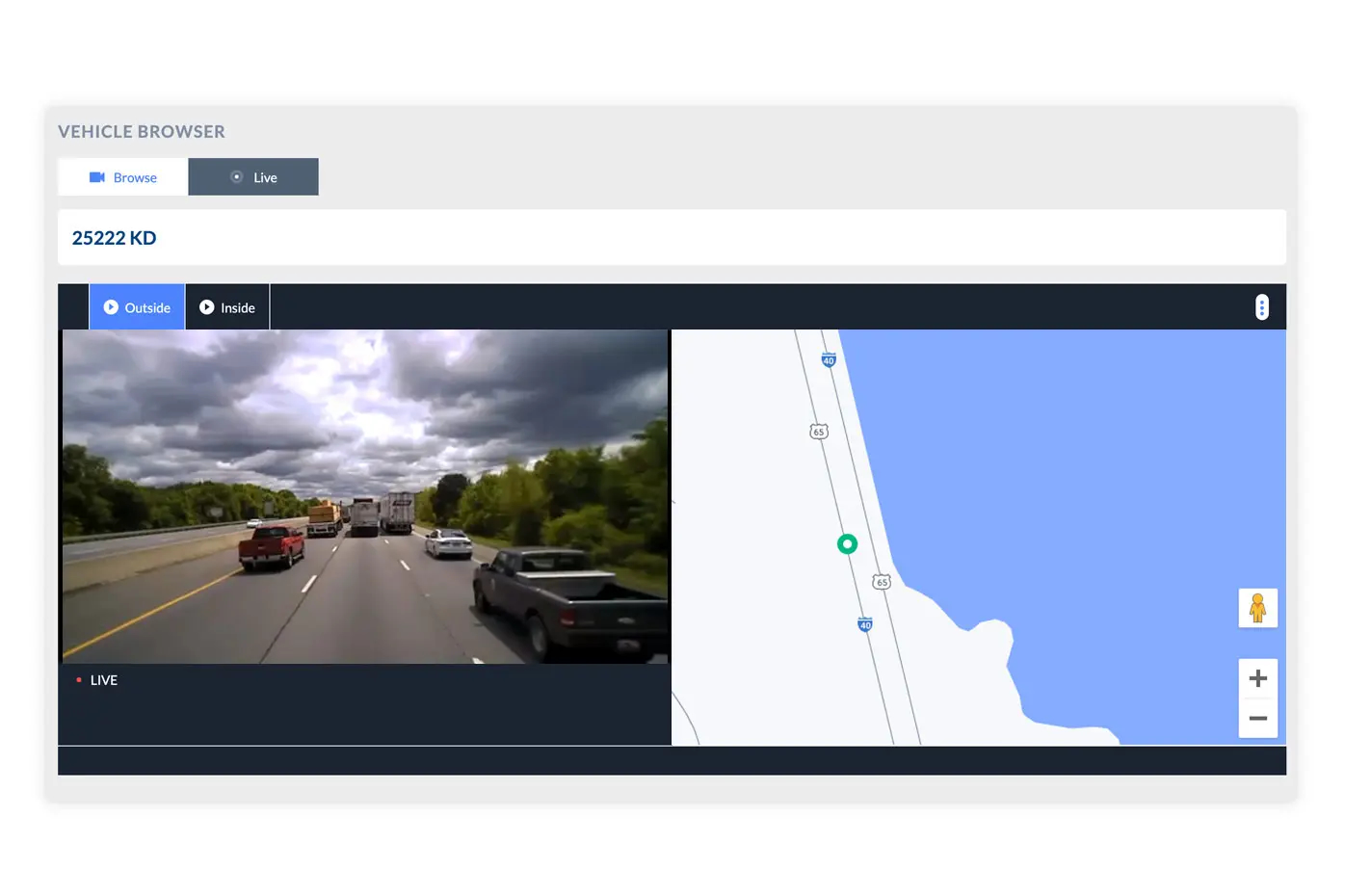 Supports live streaming and continual recording
Get immediate access to the video evidence you need – right from your Lytx account. Protect your drivers and your company reputation with on-demand access to live streaming and up to 200 hours of continually recorded video per device.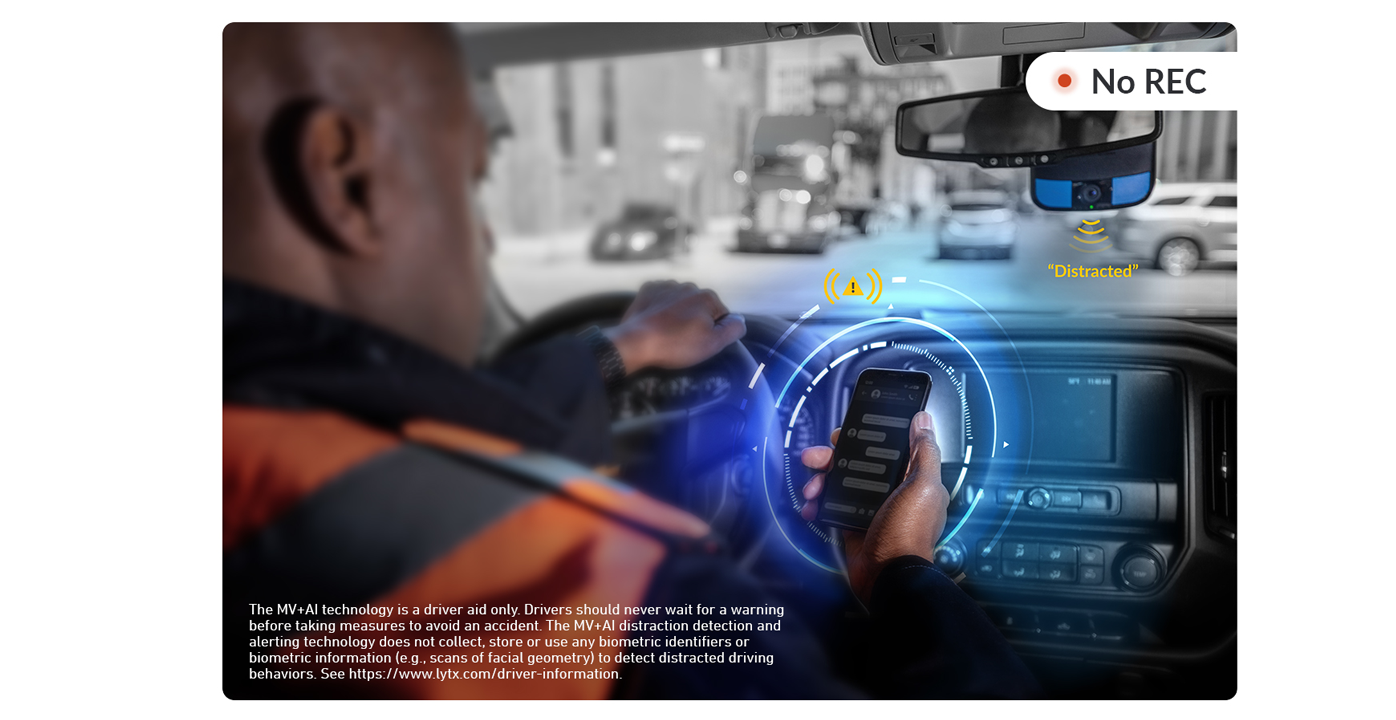 Enhanced driver privacy options
You can configure our MV+AI to detect risky behavior without needing to record video of the driver. For fleets with special concerns around driver privacy, our device can continue to deliver real-time alerts† to enable drivers to self-correct, along with manager reports to drive accountability.
LEARN MORE ABOUT RISK ID WITHOUT RECORDING
Frequently asked questions
"If there was one technology I could have had throughout my 32 years in the transportation business, [Lytx] would be it. It's another set of eyes. It's proof. It protects the driver. And it protects the company."
Jerry Welsch
Safety Manager A.D. Transport Express
The Lytx Difference

Service
Our team is invested in your success. We work with you to help ensure that your company achieves extraordinary results, from configuring the right solutions to meet your business needs to helping you get the greatest return on your investment. We're always expanding by listening to our customers and using their input to shape our next generation of features and capabilities.

Innovation
Our machine vision and artificial intelligence are powered by a robust driving database (221 billion miles and counting), resulting in connected, accurate, actionable insights that keep fleets safe, on-schedule, efficient, and productive. We continuously evolve to deliver cutting-edge updates that help customers simplify processes, save time, and focus on driving results for their business.

Leadership
For more than 25 years, Lytx has been a leading provider of complete fleet management solutions. We're focused on addressing all of your fleet needs, all in one place, with all together powerful solutions. We help fleets identify risk, stay safer, optimize efficiency and gain greater productivity. Our smart, simple hardware, software, and API integrations provide a single, consolidated view of your fleet.