VEDR
Order VEDR
Run a compliant business with the leader in video telematics.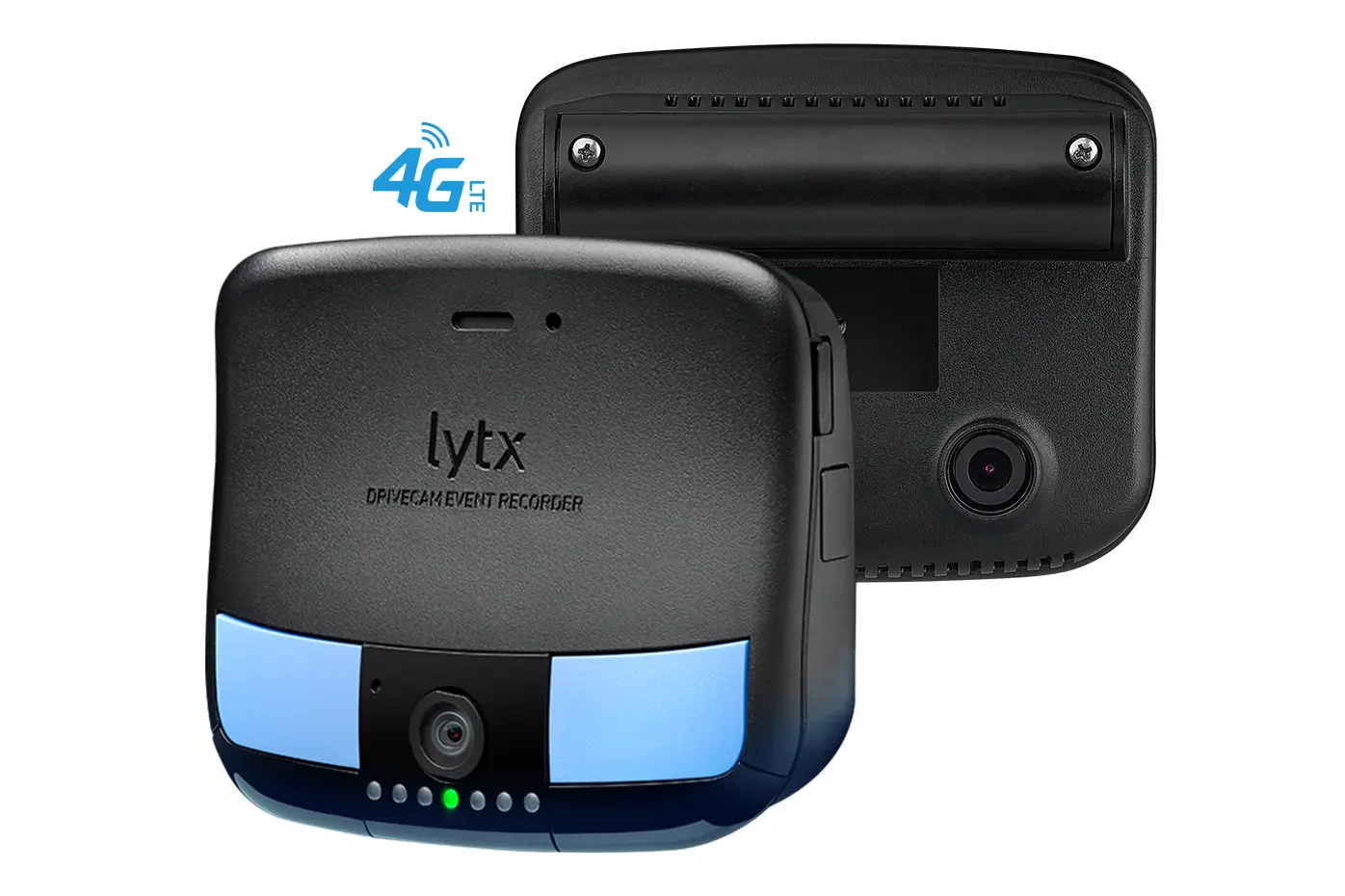 Meet your VEDR contracting standard with Lytx today
As a global leader in video safety, Lytx® serves over 3,500 service providers, protecting over 35,000 drivers. With 25+ years of experience, our team knows how to support you and your business.

Our advanced dual-lens video event data recorder meets your VEDR contracting standard. Lytx's safety solution can help you reduce claims costs by up to 80% and is trusted by the top fleets in the world. All this, for one low monthly price and zero upfront costs!
BOOK A DEMO


Save valuable time with these
key features service providers love


Quickly and easily access video
Retrieve video events on demand from your cell phone*
Search for video by address, point of interest, or time frame
Efficiently respond to claims, offer driver's assistance, track compliance and more


400 hour DVR lookback
Access up to 400 hours of continual video on demand
Easily investigate complaints
Provide video proof-of delivery
Quickly exonerate drivers from false claims


Efficient coaching workflow
Batch coach multiple driver events in one session
Deliver rapid ROI for your business
"With Lytx, I'm able to login, search an event time-frame and watch the video within 2 minutes as if watching it in real time. It is very organized."
Robert Whitlow
Fleet Safety Manager H&C Group
"Lytx's lease program is incredibly affordable and a no-brainer."
John Abrams
Centurion Logistics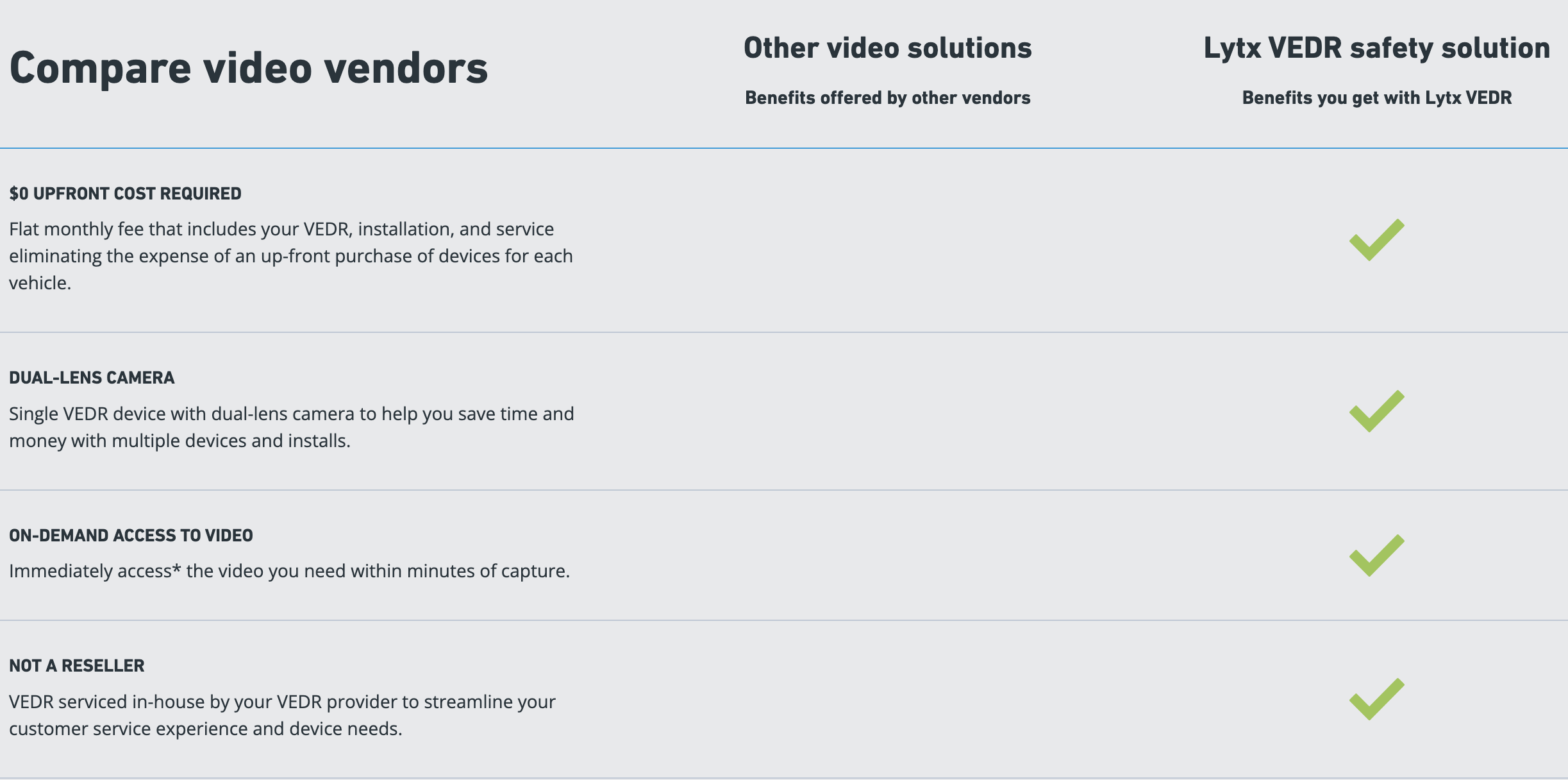 PREFERRED VEDR PRICING OPTIONS
Sales tax not included. 36-month subscription term required for lease options and 24-month subscription required for purchase options.
Available to qualified purchasers. Please reach out to a Lytx account representative for Terms and Conditions and details.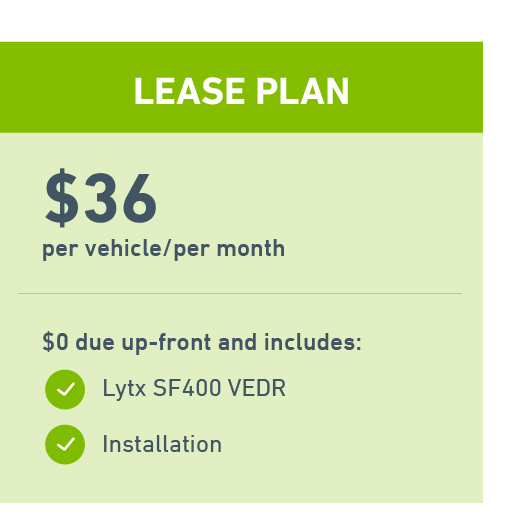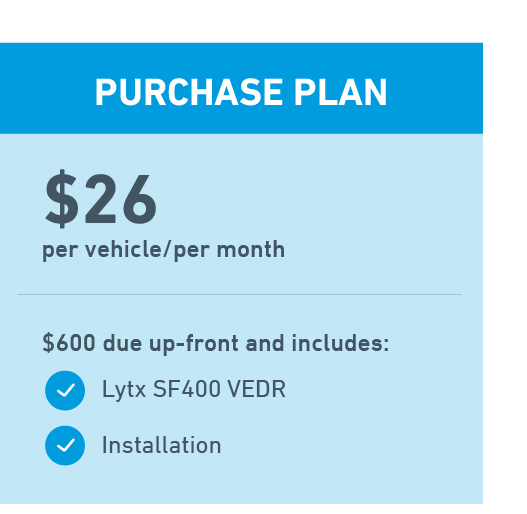 Get started with a Lytx VEDR expert
Complete this short form, and we'll be in touch right away.
RELATED RESOURCES
Resources for VEDR Service Providers
Looking for more information? Visit our resource center dedicated to VEDR SPs.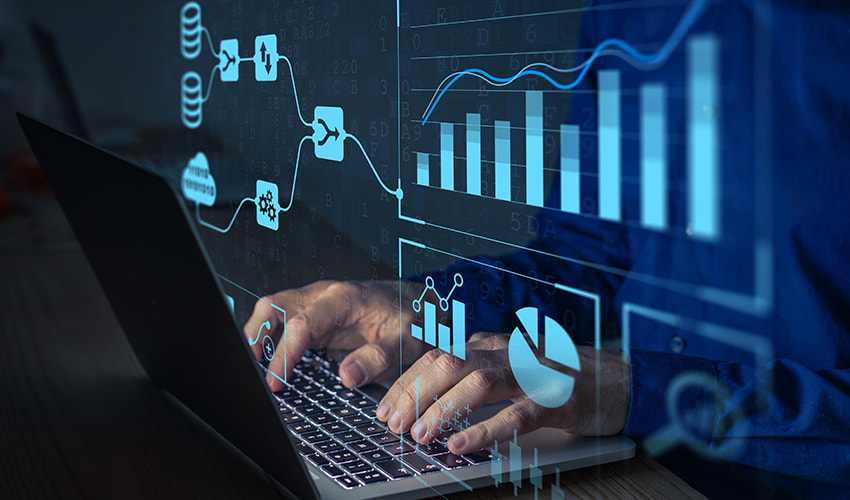 How to Monitor Your KIs
Lytx VEDR Safety Program Use the Program Status Report to monitor your Key Indicators (KIs) for VEDR program compliance The Program Status Repor...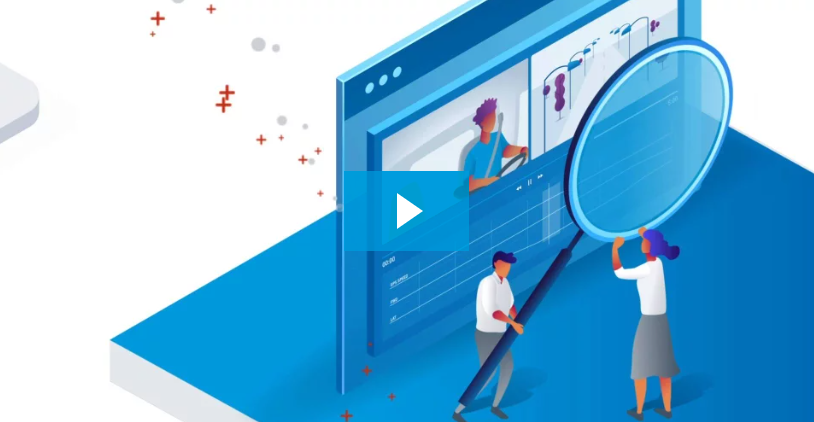 Lytx Driver Safety Program
What does it take to reduce risk, prevent collisions, and improve fleet performance? A safer fleet starts with prepared drivers. And that's w...
Experience you can trust
We've delivered incredible results for our clients for more than 20 years.
Frequently asked questions
VEDR stands for Video Event Data Recorder. It is the device that provides video insights into your vehicles and drivers and is required to achieve your VEDR compliance.
The Lytx Video Event Data Record (VEDR) is a dual-facing in-vehicle camera that utilizes machine vision and artificial intelligence (MV+AI) to capture and deliver critical information to help improve fleet safety and reduce the costs associated with accidents. Lytx's VEDR safety program gives your service providers the resources they need to stay complaint with VEDR industry standards and contractual obligations.
Lytx's VEDR safety program provides many benefits to SPs including: on-demand video search and download, access to up to 200 hours of continual video (100 hours per lens), increased efficiency to respond to claims, verify service, pinpoint incidents, track compliance and much more.
Lytx is the industry leader in video telematics. With more than 25 years in business, and data pulled from billions of miles driven, Lytx's advanced MV+AI capability to identify risky events and notify managers of video to review is unrivaled. Our rate of low false-positives means managers only spend time reviewing necessary video. Our experience and solutions helps your telematics improve safety while saving time and costs.
Lytx's SF300 video event data recorder is a one-box solution to fulfill your VEDR contracting needs. It is equipped with ADAS technology, which includes lane departure and forward collision warning. This LTE VEDR program provides the latest technology advancements to help you meet your KI requirements including extended recording, MV+AI triggered events, the ability to trim and transfer your saved events—along with an easy to implement and manage coaching workflow to help you maintain and achieve KI thresholds set forth.
Even if your trucks are already equipped with ADAS Forward Collision Warning (FCW) and Lane Departure Warning (LDW), you can benefit from a system like Lytx.
Lytx's SF300 VEDR systems includes advanced MV+AI technology that uncovers additional risk not captured by your OEM ADAS. In addition, the SF300 gives you access to future MV+AI capabilities at no additional cost.
Ready to get started with the industry leader in video telematics? It's easy! Contact a Lytx VEDR expert today at 888.539.5989 or email VEDRsales@lytx.com.