Press Release
Lytx Data Shows the Impact of the COVID-19 Pandemic on Commercial Driving Risk
SAN DIEGO — May 5, 2020 — Fleet video telematics provider Lytx® shared new insights today about changes in driving risk tied to the COVID-19 pandemic and associated guidelines to help control the spread of the virus.
"Our data is reflecting interesting trends related to COVID-19 shelter-in-place orders and the impact on risky driving behaviors," said Lytx Vice President of Safety Del Lisk. "We hope by sharing these insights from our driving-risk database, Lytx is providing information that can help fleets and drivers stay safer on the roads."
Dramatic Increase in Animal Strike Incidents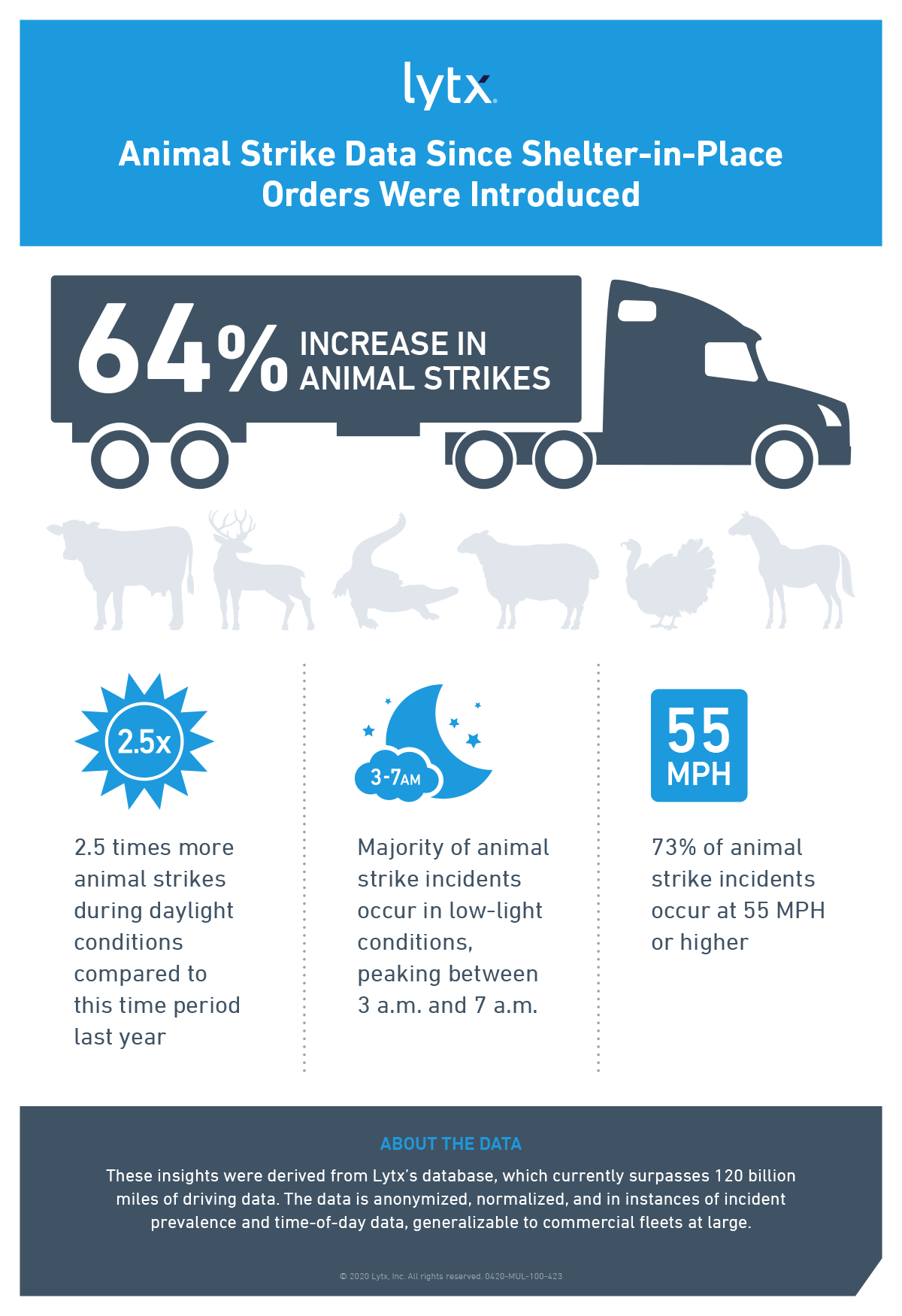 Click for larger view.
Lytx data shows a 64% increase in animal strikes since shelter-in-place guidelines were widely introduced across the country. This aligns with other reports, including CNBC coverage showing wildlife is roaming into more developed areas.
"With more people staying home to help contain the spread of COVID-19, wildlife are changing their habits and venturing out of their usual spaces," said Kyle Warlick, client intelligence analyst at Lytx. "Unfortunately, this may mean an increase in animals on streets and, in particular, highways, so drivers need to be extra vigilant and avoid hasty actions if an animal suddenly appears."
The majority of animal strike incidents occur in the early morning hours during low light conditions, peaking between 3 a.m. and 7 a.m., and 73% of all animal strike incidents occur at 55 mph or higher. As compared to this same time period last year, Lytx data also shows 2.5 times more animal strikes during daylight hours.
"It's difficult to anticipate where and when an animal might suddenly dash into the roadway. Usually, it's not about how to prevent an animal strike, it's how to minimize the consequences," Lisk said. "The key is to avoid abrupt actions such as hard braking or a sudden swerve that potentially jeopardize your safety and the control of your vehicle."
"Because drivers on highways are often driving too fast to avoid animal strikes altogether, we hope that arming fleets with this information will help increase awareness for this safety hazard," explained Lisk.
The Pandemic's Impact on Risky Driving Behaviors Among Trucking Fleets
From the week of March 1, before most states initiated shelter-in-place orders, to the week of March 29, when shelter-in-place had been broadly instituted throughout the U.S, the data shows a 51% decrease in frequency and a 55% decrease in severity of risky driving incidents across all Lytx-protected fleets.
Specific to the trucking industry, Lytx data reflects significant reductions in the following risky driving behaviors year-over-year, comparing driving risk in March 2019 to the same period in 2020:
Late response – down by 62%
Failed to keep an out – down by 28%
Collisions – down by 28%
Avoidable near collisions – down by 25%
Unavoidable near collisions – down by 23%
"These results from our own clients are consistent with what we're seeing from secondary industry research as well," explained Warlick. "Driving risk is significantly heightened by the presence of other motorists on the roads – typically non-commercial passenger vehicles. With the majority of people across the country observing shelter-in-place guidelines – and driving less – it's natural we'd see decreases across these types of risk."
Heroes of the Road – Increase in Speed/Decrease in Travel Time
Data from the past six weeks shows a 19% increase in speed and a 10% decrease in travel time on frequently travelled routes. Recent data and analysis from the American Transportation Research Institute echo Lytx's findings. According to Warlick, "This is likely another result of decreased passenger vehicle traffic on the roads, and increased demand on drivers to deliver essential goods."
"The increase in demand for essential supplies and groceries, and new buying habits from consumers, aligns with the uptick we've seen in speed and travel time, indicative of an increased sense of urgency amongst our 'heroes of the road'," Warlick said. "We know these fleets and drivers are going above and beyond to keep our shelves stocked and our economy moving. They are benefiting from reduced congestion, as much of the rest of the country stays home. We hope these insights can support these essential workers in staying safe on the road while they help keep our nation running."
About the Data
These insights from Lytx are derived from the company's proprietary database of driving data collected from Lytx's industry-leading DriveCam® event recorders, using machine vision and artificial intelligence capabilities, paired with expert professional review to recognize and capture risk in DriveCam-equipped vehicles. With 1.3 million drivers using Lytx event recorders, the Lytx database is made up of 120 billion miles of driving data – unmatched in the industry – plus data coming in from nearly every inch of every road once every hour.
About Lytx
Lytx® is a leading provider of video telematics, analytics, safety, and productivity solutions for commercial, public sector, and field services fleets. Our unrivaled Driver Safety Program, powered by our best-in-class DriveCam® Event Recorder, is proven to help save lives and reduce risk. We harness the power of video to help clients see what happened in the past, manage their operations more efficiently in the present, and improve driver behavior to change the future. Our customizable services and programs span driver safety, risk detection, fleet tracking, compliance, and fuel management. Using the world's largest driving database of its kind, along with proprietary machine vision and artificial intelligence technology, we help protect and connect thousands of fleets and more than 1.3 million drivers worldwide. For more information on Lytx telematics system, visit http://www.lytx.com, @lytx on Twitter, LinkedIn, our Facebook page or our YouTube channel.
# # #