Press Release
Lytx Reveals New Data on Driving Risk in Houston
Lytx identifies top five risky behaviors observed, riskiest day and time of the week, and riskiest roads in the city for commercial drivers, service technicians and other workers
Houston-based Lytx clients have seen reduction in speeding violations by nearly 50%, cell phone use by 40% and drowsy driving by nearly 30%
SAN DIEGO – Feb. 5, 2020 — Lytx® today announced new insights about the most prevalent risky driving behaviors, roadways and day and time for drivers across an array of industries in and around Houston. The company also released its latest data highlighting the safety improvements its Houston-based clients have achieved in the last year.
With more than 20 years of experience in video telematics and 120 billion miles of driving data – unmatched in the industry – plus data coming in from nearly every inch of every road once every hour, Lytx is uniquely positioned to provide insights into roadway conditions and driver behavior in Houston.
Riskiest Houston Roads
Lytx analyzed the locations associated with risky events captured to pinpoint the most dangerous intersections in and around Houston. These include:
I-610 at intersection with N. McCarty St.
I-10 West of intersection with I-610
Intersection of I-10 and I-45 near Providence St.
East of intersection between I-45 and I-610
I-45 between West Cavalcade St. and West Patton St.
Houston's Top Risky Driving Behaviors
Identifying the most prevalent risky behaviors is the crucial first step to training safer drivers. Lytx's analysis identified these five risky driving behaviors as the most prevalent in Houston:
Late response (Driver responds late or abruptly to a readily visible risky situation ahead)
Following distance
Posted speed violation
Failed to stop
Incomplete stop
"Navigating heavily trafficked routes, such as the busy streets of Houston, is hazardous by nature. By identifying risk, especially localized risk like this, we hope to provide fleet managers with the information necessary to make proactive decisions about vehicle dispatching, route optimization and driver coaching," said Del Lisk, vice president of safety services at Lytx. "Our Driver Safety Program and DriveCam technology are unmatched in the industry at capturing risk and supporting safer driving. When we examined this Houston data, we were proud to say we also found strong improvements in safe driving for local Lytx users year-over-year."
Riskiest Day and Time
Friday morning (9am – noon) was found to be the riskiest time of the week to drive in the Houston area, with the most collisions happening during this time period.
Lytx Clients Make Dramatic Safety Improvements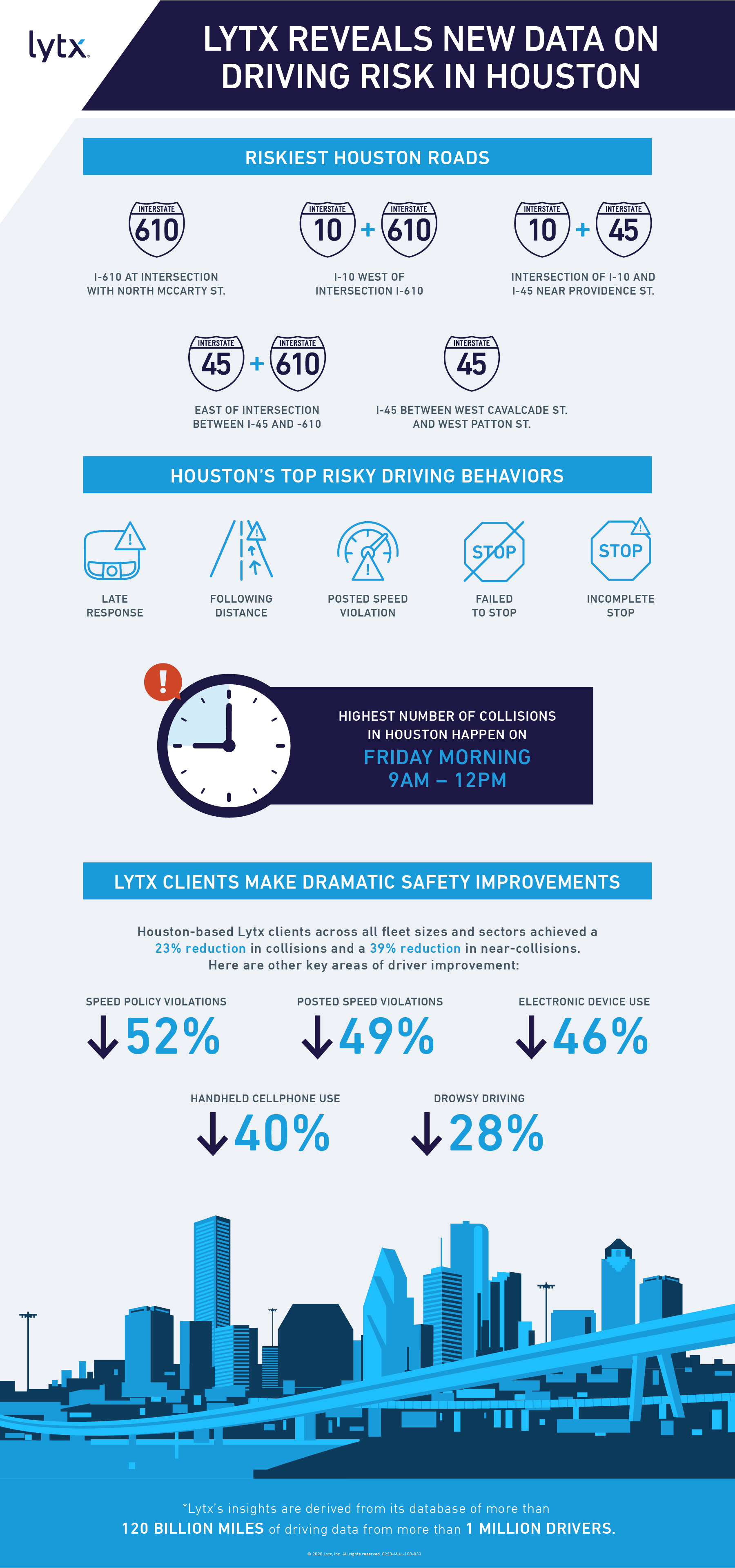 Click for larger view.
Houston-based Lytx clients across all fleet sizes and sectors achieved a 23% reduction in collisions and a 39% reduction in near-collisions. Here are other key areas of driver improvement:
Speed policy violations down by 52%
Posted speed violations down by 49%
Electronic device use down by 46%
Handheld cellphone use down by 40%
Drowsy driving down by 28%
Late response down by 25%
Food/drink policy violations in the vehicle down by 22%
Smoking policy violations while driving down by 22%
Lisk continued, "We are witnessing our Houston clients dramatically reducing several key risky behaviors, like speeding and cell phone distraction. These results speak volumes about the importance of a proactive approach to safety and the effectiveness of Lytx's programs and technology. We believe the more you know about risk in your vehicles and on your roads, the better equipped you will be to create a safer and more effective fleet."
About the Data
These new insights from Lytx are derived from the company's proprietary database of driving data from Jan. 1, 2019 to Dec. 31, 2019. The company analyzed Houston-specific data from Lytx's industry-leading DriveCam® event recorders, using proprietary machine vision and artificial intelligence capabilities, paired with expert professional review to recognize and capture risk in DriveCam-equipped vehicles. By providing localized data, Lytx can help fleet operators identify risk in their vehicles and neighborhoods.
The data is anonymized, normalized and in instances of concentrated areas and times of risk, generalizable to commercial, public sector and field services fleets as a whole, given Lytx's majority market share in video telematics solutions for the commercial fleets at large.
About Lytx
Lytx® is a leading provider of video telematics, analytics, safety, and productivity solutions for commercial, public sector and field services fleets. Our Driver Safety Program, powered by our best-in-class DriveCam® Event Recorder, is proven to help save lives and reduce risk. We harness the power of video to help clients see what happened in the past, manage their operations more efficiently in the present, and improve driver behavior to change the future. Our customizable services and programs span driver safety, risk detection, fleet tracking, compliance, and fuel management. Using the world's largest driving database of its kind, along with proprietary machine vision and artificial intelligence technology, we help protect and connect thousands of fleets and more than one million drivers worldwide. For more information, visit http://www.lytx.com, @lytx on Twitter, LinkedIn, our Facebook page or YouTube channel.
# # #