Press Release
Video Telematics Leader Lytx Expands U.S. Footprint with Opening of Boston-Area Office
- Top-performing technology company expands into the Boston market
- With room to grow in its 20,000 square-foot space, Lytx will double Boston-area team in 2020
SAN DIEGO – March 10, 2020 – Lytx®, a leading global provider of video telematics solutions for commercial, public sector, and field services fleets, has opened a 20,000-square-foot office in Framingham, Mass., approximately 20 miles outside of Boston, to support the company's rapid growth in the $30 trillion global transportation economy.
Lytx recently announced completion of the largest-ever investment in video telematics from global private equity firm Permira. The investment values Lytx in excess of $2.5 billion. According to analyst firm Frost & Sullivan, Lytx has 60% share of the total video safety market, more than triple the share of its nearest competitor.
"Lytx is accelerating customer-centered innovation, expanding into new markets – across the nation and around the globe – and blazing the trail for the digital transformation of fleets worldwide," said Steve Lifshatz, the company's executive vice president and chief financial officer. "That growth continues to be reflected in the company's strong financial results – highlighted by 44 consecutive quarters of year-over-year, double-digit subscription growth."
"Our team based here in the Boston area, which started as a blue-chip financial operations center for the company, has played a critical role in that success," continued Lifshatz. "Now, as Lytx further expands into new markets, we are looking to double the size of our crew here, bringing on sales talent, operations staff, and leveraging the area's experienced software-as-a-service professionals. It has been more than 20 years since Lytx created the first technology in the video telematics space. The opening of our Boston-area office will be a critical catalyst for our next decade of growth."
Driving the News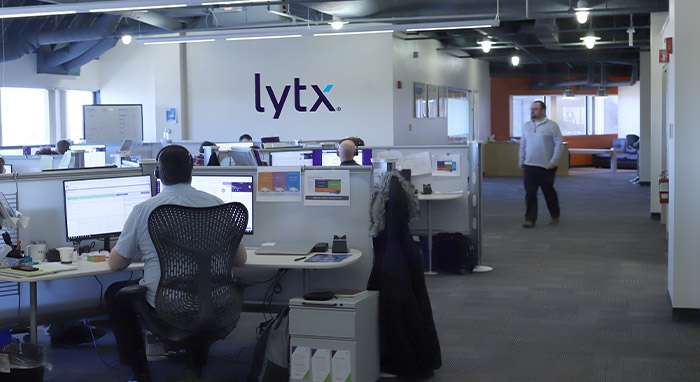 Lytx Boston-area office
Lytx's expansion in the Boston area is one of many hallmarks of the company's impressive growth trajectory. In February, Lytx announced its outstanding 2019 results, including a 32% increase in new subscription sales. The company also kicked off its annual User Group Conference by unveiling next-generation machine vision and artificial intelligence (MV+AI) designed to help eradicate distracted driving. Using this cutting-edge technology, Lytx clients can better co-pilot their drivers – constantly monitoring the road and the driver to detect risky driving, and triggering short video clips to provide insight into what's happening inside the vehicle. Such innovations have helped Lytx's clients reduce claims costs by 50% to 80%, and optimize fleet operations in ways that yield between 3-6 times annual return on their investments.
"Lytx has billions of miles of driving data and experience across thousands of fleets that enable us to deliver effective behavior-change tools for fleets of all sizes," Lifshatz said. "We decipher millions of hours of driving data a day and use it to deliver meaningful insights to clients and make a positive difference for their business."
Today, more than 4,000 organizations, with fleets of all sizes and across all sectors, are experiencing the benefits of Lytx firsthand. In 2019, nearly 25% of new customers were fleets who switched to Lytx after using another video or telematics solution. The company also increased its base of protected drivers to 1.3 million worldwide.
Lytx's Presence in Framingham
Lytx's Framingham office is located at 492 Old Connecticut Path, suite 601, in the Framingham Corporate Center. The office – which has quickly become home to nearly 50 Lytx employees across finance, accounting, sales, operations, and human resources – includes customer meeting rooms, collaboration spaces, focus rooms, an all-hands meeting and training room, as well as a game room designed to foster Lytx's team-oriented, casual, startup culture. Other onsite amenities include a full-service cafeteria and gym.
"With its internationally acclaimed innovation ecosystem, world-class universities and a vibrant startup community, opening an office in the Boston area was a natural choice," said Tonya Cross, Lytx senior vice president, human capital and facilities. "We're delighted to join and contribute to the dynamic East Coast tech center, and to grow our team with talented individuals who embody the spirit of our organization: hungry, humble and capable."
Cross continued, "Our office in Framingham gives us access to a rich pool of diverse talent with the experience to succeed in our fast-paced, high-performing workplace and help us continue growing our business and leading the market in innovation."
Lytx employees are passionate about making a difference in the communities in which they live and work. The company supports this with a generous volunteer time off (VTO) program and employee volunteer events in the community. The team in Framingham volunteered over 150 hours in 2019 and participated in these terrific local programs:
United Way of Tri-County's Annual Thanksgiving Turkey Distribution – provided 2,700 local families with a full holiday meal they can prepare at home.
United Way of Tri-County Food Pantry – unloaded and stored food donations and prepared weekly grocery packages for the Food Pantry recipients.
Holiday Gift Drive through the Department of Children and Families (DCF) – sponsored children who were being serviced by DCF by fulfilling their holiday gift wish lists and clothing/toiletry needs.
Currently Hiring
Lytx is currently looking for inside sales, operations, finance and accounting talent. Learn more about the culture and opportunities at www.lytx.com/careers.
About Lytx
Lytx® is a leading provider of video telematics, analytics, safety, and productivity solutions for commercial, public sector, and field services fleets. Our unrivaled Driver Safety Program, powered by our best-in-class DriveCam® Event Recorder, is proven to help save lives and reduce risk. We harness the power of video to help clients see what happened in the past, manage their operations more efficiently in the present, and improve driver behavior to change the future. Our customizable services and programs span driver safety, risk detection, fleet tracking, compliance, and fuel management. Using the world's largest driving database of its kind, along with proprietary machine vision and artificial intelligence technology, we help protect and connect thousands of fleets and more than 1.3 million drivers worldwide. For more information on Lytx telematics system, visit http://www.lytx.com, @lytx on Twitter, LinkedIn, our Facebook page or our YouTube channel.
# # #