Need some help figuring out what GPS fleet tracking systems are all about? Below are answers to six of the most frequently asked questions on the topic that will give you a solid base of knowledge.
What is fleet tracking?
In its simplest form, fleet tracking is the use of a device or software to locate and monitor your vehicles. This tracking is performed by dispatch or a fleet's home office and the purpose is to efficiently manage your vehicles and mobile workforce—at the very least, a fleet manager will know who's where at what time.
That being said, fleet monitoring has evolved to be much more than dots on a map. Modern fleet tracking systems are dynamic, relaying satellite images in real time and providing detailed data on driver and vehicle performance. This depth of information has proven to help fleet operators adjust resources on the fly, improve fleet safety policies, increase productivity, and lower costs.
How does GPS fleet tracking work?
All fleet tracking solutions involve some type of Global Positioning System (GPS). Fleet GPS units are typically installed in the vehicle. Vehicle data is sent via cellular towers and satellite from the GPS device to a dispatcher computer or mobile device in near real-time. The information flow looks something like this: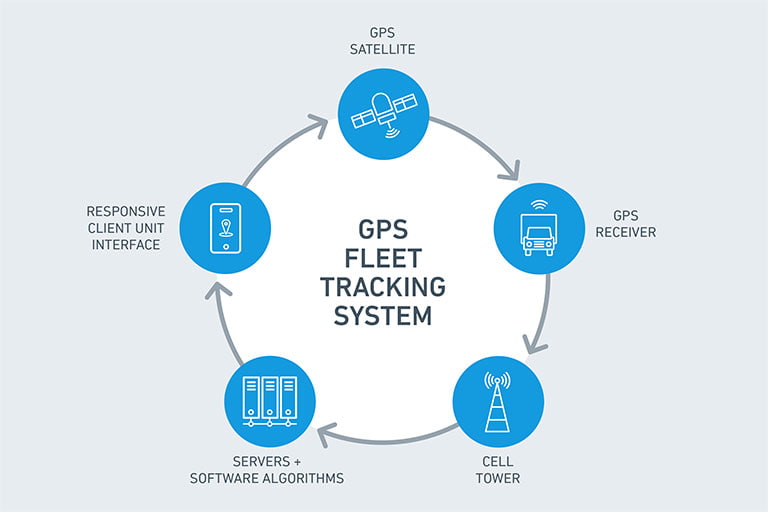 The level of sophistication of the GPS fleet tracking system and how much information it relays can vary. The best software transmits information such as: vehicle location, speed, mileage, idle time, engine diagnostics, and trip histories. Some fleet GPS services can even incorporate external data sources, such as live traffic updates, road and weather conditions, online maps, posted speed limits, and other advanced telematics.
More on this: How Does Fleet Tracking Software Work?
Does GPS tracking always happen in real time?
Not always—there are a few caveats. First, getting real-time fleet tracking depends on the system you're using. Some solutions can provide this live tracking, while others cannot, so be sure to ask your fleet tracking vendor about their capabilities in this arena. Secondly, the ability to get real-time updates is dependent on available cellular coverage (this holds true for all systems). As long as a vehicle's GPS device can ping a cellular tower or satellite, the data will continue to flow with no more than a few second delay.
What are the benefits of GPS fleet tracking systems?
Each fleet is different and will experience unique perks of fleet tracking, but there are a few common benefits that span most organizations:
Better customer service: With a real-time view of vehicles and associated data, fleets can share more accurate arrival times with customers and respond to customer inquiries immediately.
Enhanced productivity: Tracking arrival, idle, and departure times, as well as reviewing exact route history, helps fleets uncover trends that lead to more efficient routes or operations. It also helps dispatch make adjustments on the fly as needed and maximize resources.
Reduced theft: GPS fleet tracking systems often include custom geofences that send notifications when vehicles leave designated areas or operate outside of business hours, raising a warning flag in real time that a theft may be in progress. Also, managers can use route replays to find lengthy or unexpected stops and unauthorized side trips, which may help locate stolen cargo.
Improved safety: Some fleet monitoring systems include vehicle cameras or can at least play back individual routes with animated graphics. This data reveals where drivers may be engaging in risky behaviors—such as speeding, hard braking, or distracted driving—which can then be used as a coaching tool to help drivers improve their skills. Having this information on driver performance ultimately strengthens safety cultures and lowers costs related to collisions and false claims.
Can I merge GPS fleet tracking systems with video?
Dash cams are becoming more prevalent in fleets of all sizes because of their increasingly useful applications. Cameras can be installed with external-facing views only, or can have both external and interior views. Video footage is collected in tandem with other fleet tracking data, offering important context and incontrovertible evidence relating to:
Proof of service
Collision or incident exoneration
Knowledge of risky driving behaviors
An all-in-one fleet management system can include both vehicle tracking and video. If you have to patch together solutions from several different vendors, it can complicate operations and potentially create data integration issues. If you must use multiple technologies, you want to ensure your fleet tracking system will integrate with other fleet management systems.
What is the best GPS fleet tracking company or system?
The answer to this question may depend on your specific business needs. Do you need more traditional data points like vehicle location, speed, and mileage? Or are you looking for more sophisticated tracking that overlays traffic maps and speed limits? Do you want video footage? Are you hoping it will integrate well with your other systems? Are you looking for an all-in-one fleet management solution?

Determining the answers to questions like these will help you start building your requirements for the ideal GPS fleet tracking software. As a general rule of thumb, look for solutions that are cloud-based so you can access them on any device (desktop, mobile, or tablet), from anywhere you happen to be at that moment.

Easy accessibility and a user-friendly interface will be critical to ensuring you get the most out of the system. Overall, you should select a system that you can see yourself using to make your day-to-day operations easier.
Have more questions? Talk to a Lytx fleet tracking expert.