What is a telematics system?
The term "telematics" is a combination of two areas of technology: telecommunications and informatics. "Telecommunications'' is defined as communication at a distance. Think over-the-air transmission, as in the modern day telephone. "Informatics" refers to data processing. So, what is telematics? Given the combination of terms, a telematics system refers to a system that transmits data remotely from afar.
Just 10-15 years ago telematics systems didn't even exist. The internet age brought with it the ability to share information from anywhere in the world, giving rise to new technological systems for transmitting priceless data.
It is not surprising, then, that telematics systems have completely transformed various industries over the last decade, including, but not limited to, fleet operations for the better.
What does a fleet telematics system do?
Today's fleet telematics systems have evolved from simple vehicle location information to a pipeline of data that provides a wealth of information about both the vehicle and its operator—all traveling over a high-speed wireless network or cellular connections.
Telematics system information contains clues indicating areas for improvement, from increasing fuel efficiency and pinpointing vehicle locations, to reducing collisions and saving lives. It's no surprise, then, that fleet managers and operators have started to invest heavily in modern telematics systems, particularly video telematics, to protect their assets (both human and physical) while gaining a competitive advantage in their markets.
This article will explain the meaning of fleet telematics, how it works today, and how it is used in a variety of sectors to improve safety, operational efficiency, and customer service. Among the most significant developments in the field involve video telematics and the ability to harness images with video, machine vision, data mining, and predictive analytics to drive further improvements. We'll also cover trends in telematics that are likely to play a major role in the near future.
Components of vehicle telematics solutions
What is a telematics system? At its simplest, a fleet telematics system is a collection of services for collecting and using vehicle data to achieve any number of tasks, such as locating a vehicle using signals from GPS telematics. Today, companies can collect a wide variety of telematics data beyond GPS fleet tracking. This table shows a sampling of the major telematics technologies and the types of data each collects: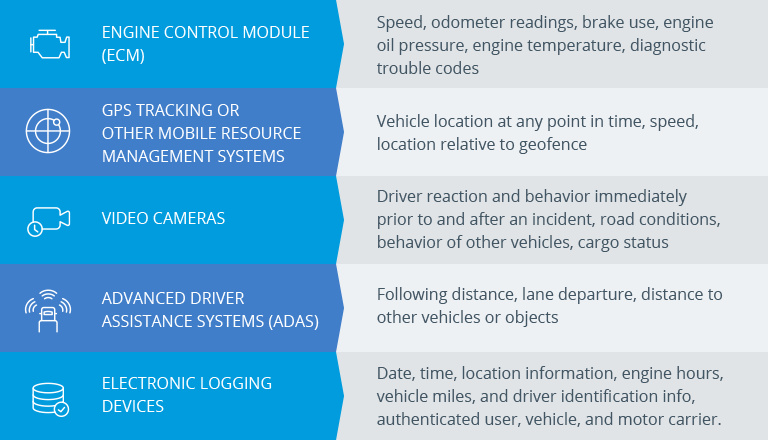 What is video telematics?
Among the fastest and most promising developments in the field is the development of video telematics. In recent years, the simple addition of a fleet dash cam has opened the field to a vast number of new uses. Prior to the use of video, telematics data provided basic information on where and when an incident occurred, but not why it happened. Video provides a platform for companies to understand why something occurred so they can prevent it from happening again.



Simply put, video telematics combines video data, computer vision technology, and vehicle data to deliver insights that telematics alone cannot. Traditional driver telematics, for example, can provide fuel data, as well as information about erratic driving events such as hard braking, swerving, or collisions.
Video telematics provides the critical context required to create long-term solutions. For example, the use of a cell phone while driving can be identified proactively before it results in a serious event. Because of its power to lead to lasting change, the global market for video telematics is expected to grow 23 percent every year through 2023 as more companies adopt the technology.1
Why fleet telematics systems are important
Numbers don't lie…in fact, they're truth-tellers. Fleet managers use telematics systems to make decisions based on factual data versus guesstimates. The information contains clues on how to make things better, faster and more affordable in every area, from operations and safety to customer service.
Not as exciting, but perhaps more important, basic telematics are legally required by the Federal Motor Carrier Safety Administration (FMCSA). As of December 2017, fleets must be compliant with the FMCSA's electronic logging device (ELD) mandate. ELDs are used to electronically record a driver's hours of service (HOS) to ensure the requirements related to them are met.
What are the benefits of fleet telematics technology?
Telematics technology is used to help tackle a wide array of important tasks that help keep fleets running smoothly and safely. The benefits of telematics services broadly fall into three main categories: operations, safety, and compliance. Improvements in these areas can help companies focused on fleet productivity to save millions of dollars while helping to improve brand perception.

Getting the most from your telematics system
Telematics provide a lot of rich data, but if you don't use that data, it's wasted. You can get the most out of your telematics system when you leverage the information it provides to:
Run tighter operations
Telematics technology can help your fleet find better routes with real-time communication and GPS, adding valuable time to drivers' hours of service. You also can track deliveries and cargo in real-time, and the data can help fleets improve efficiency on everything from to fleet operations as a whole.
Keep vehicles in top shape
Drivers and managers can use telematics to stay ahead of vehicle maintenance and repairs. Telematics systems signal when a vehicle is having engine problems or diagnostic issues and inform routing centers when a vehicle is out of service. You won't ever run a truck on its last legs again.
Keep drivers happy
Use data from telematics systems to incentivize those who achieve efficiency or safety goals. Telematics technology provides data and video that fleets can use to coach drivers, enhance their skills and positively reinforce exceptional performance. Together, it all helps boost driver morale, engagement and retention.
Put safety first
In giving fleet managers more control over the safety of their fleets, telematics systems offer insight into unsafe driving habits that can burn fuel quickly, lead to drowsy, aggressive or distracted actions and even cause a collision or near-collision. When a collision or near-miss happens, the data and video footage captured by telematics systems can help make it crystal clear what caused an incident, who was involved and why it happened. The data can also be used to help fleets improve their safety practices or exonerate commercial drivers who aren't at fault, saving fleets substantial litigation costs.
Safe Money
Every benefit and use of telematics translates into bottom-line savings. Telematics data reveals ways you can operate more efficiently and safely, avoid litigation and retain top drivers. This becomes one of your company's most powerful tools to reduce cost and increase profit.
Trends in telematics
Recent advances in telematics have increased the technology's flexibility and functionality. Video telematics in particular has come a long way in the past two decades, and it has become more useful and versatile with every mile. Here are five of the most recent telematics trends:
Custom triggers
Fleet operators have the flexibility to create custom triggers and configure parameters that are particular to their fleet--because no two companies are the same. Modern algorithms can now track specific risks and help managers optimize resources to respond to shifting challenges within their operations. Waste management companies can confirm service through videos tagged for each time a bin is lifted. Transit organizations can focus on passenger safety by reviewing footage of when doors open to let people on or off. Trucking and distribution firms can ensure drivers are following the "three points of contact" safety rule each time the driver door is opened.

Live streaming
Access to live video from an outside-facing lens lets managers stay connected with their fleet and see what's happening in real-time so they can respond faster to changing conditions or troubleshoot issues in the field. Live streaming can also be used to more efficiently coach drivers through "virtual ride-alongs."
Visual analytics
Machine vision algorithms can help detect drowsy or distracted driving, two major risky behaviors that can lead to collisions. Improvements in vision-based machine learning will bring even more sophisticated analytical tools to bear on safety and operational efficiencies as the technology advances.
360-degree visibility
Truck telematics can now be enhanced with a dozen or more cameras to cover every angle of a vehicle. Cameras are cheaper and more capable than ever before, making multiple high-resolution camera views a reality. Companies are combining traditional telematics with multiple cameras to elminate operational blind spots and provide confirmation of service, proof of cargo integrity, accurate accounts of events to resolve claims, and deeper context of moments for more effective driver coaching.
Deeper data integration
Organizations are increasingly using application programming interfaces to connect and analyze data from multiple telematics devices to create a more complete view of what's happening with a vehicle, the driver, and the entire fleet. Some combine data about driving behavior with fuel consumption, for example, to see which driver habits affect fuel economy. Others layer employee data onto telematics data to build a more detailed understanding of individual drivers as well as a more holistic view of how they perform as a group.
Video telematics and driver retention
By showing fleet managers what really happened and why it happened, video telematics systems empowers them to use that knowledge as a guide to improve future fleet performance and prevent a particular incident from occurring again. With the help of video telematics, fleet managers can analyze performance data, view actual video footage and use it to defend against false claims, improve safety performance or reward a driver's job well done. Not to mention that by helping to improve driving habits, video telematics programs ensure that your employees, and your cargo, arrive safely.

Although some drivers initially are wary of video telematics, those who have used a video telematics system often realize that video can be a valuable advocate for them. Video has been used to exonerate drivers from wrongful blame in a collision. When fleets and drivers have video evidence to protect them in a false claim, the video's content can prove they weren't at fault and help protect their reputation, their livelihood and their bottom line. And it boosts morale for wrongly accused drivers.

Video telematics programs also lead to driver retention in another way: They can allow drivers to retain their jobs while working to continuously improve. Video telematics solutions with a driver coaching component allow drivers to sharpen their skills through constructive coaching sessions with a safety manager. When drivers are respectfully approached about driving behaviors, they're often eager to develop safer habits. The video is used as a learning tool and not as a way of punishing employees. As a result, drivers become more skilled and vigilant and stay with the company while enhancing their talent.

Fleet managers recognize that by implementing the latest technology their organizations can stay competitive in the transportation industry. A video telematics solution is a powerful tool that can give fleet managers added protection and control over their operations.
How Lytx video telematics solutions can help
Video telematics solutions combine video-based coaching with predictive analytics to help you take action before a collision happens. The DriveCam® Event Recorder extends your video telematics further, using live-stream video of the outside view and on-demand continual video to expose operational blind spots and show you more critical moments in the field. We offer solutions and features designed to help companies reduce costs, manage fleet risk, optimize productivity, and improve driver performance. Our solutions are proven to change driver behavior and deliver a rapid return on your investment to save you time, money—and most importantly, lives.
Learn more about how Lytx can help you leverage the most out of your fleet telematics systems. Schedule a customized demo today.
1Frost & Sullivan, "Global Truck Video Safety Solutions Market Forecast," September 2017.