LYTX DOT COMPLIANCE SERVICES
DOT compliance solutions
DOT driver compliance solutions to improve management, training, and help meet DOT requirements.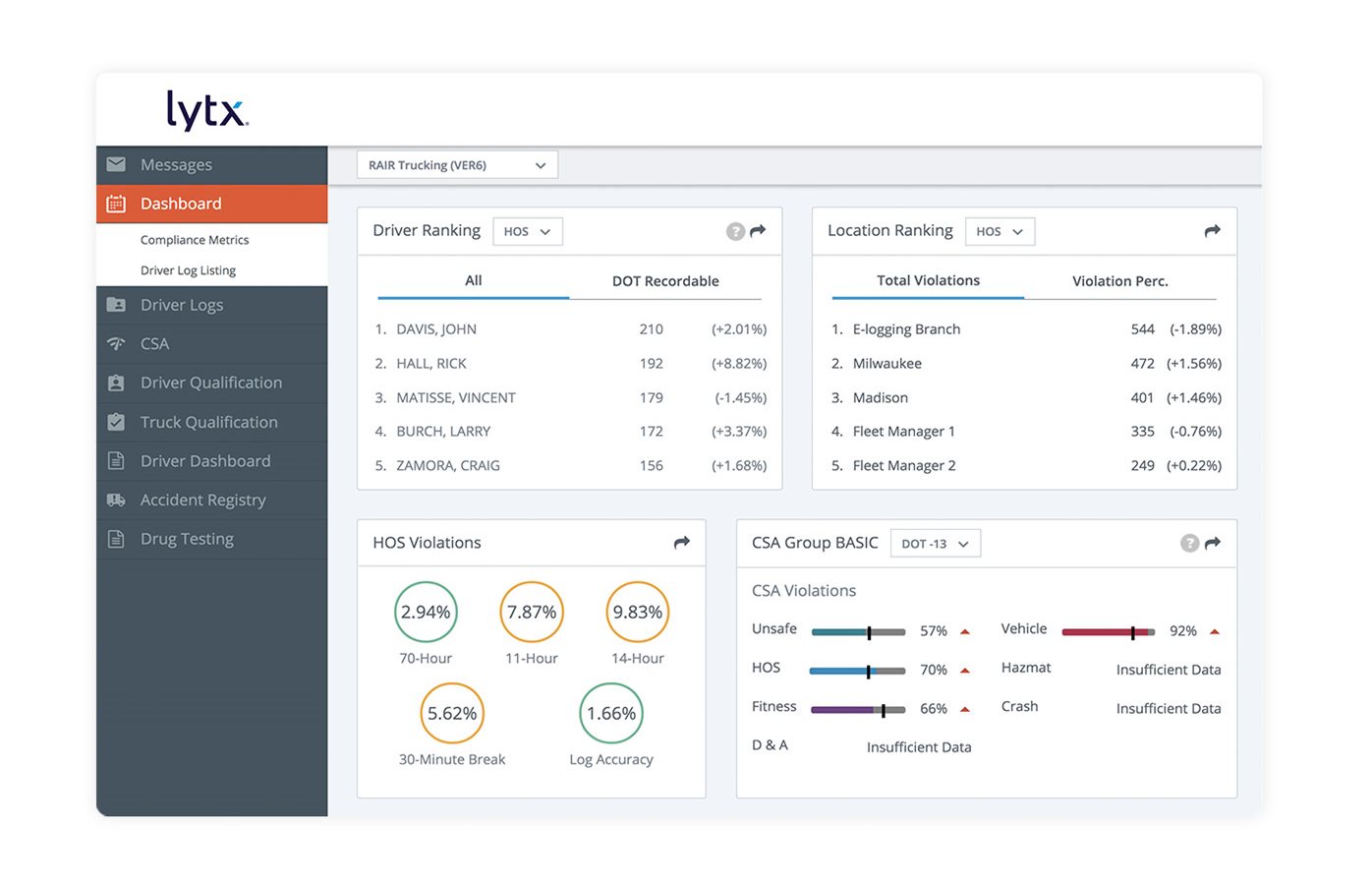 Customizable DOT compliance software and ELD solutions to meet your evolving needs
Our Department of Transportation (DOT) compliance services can help you improve Compliance, Safety, Accountability (CSA) scores, reduce risk, comply with Electronic Logging Device (ELD) mandates, and lower operating costs. Lytx® integrated, web-based tools help automate your processes, taking the tracking and guesswork out of DOT compliance management. Our individual safety DOT compliance services can be combined as needed to ensure that all of your bases are covered.
BOOK A DEMO
Learn more about our DOT compliance and ELD solutions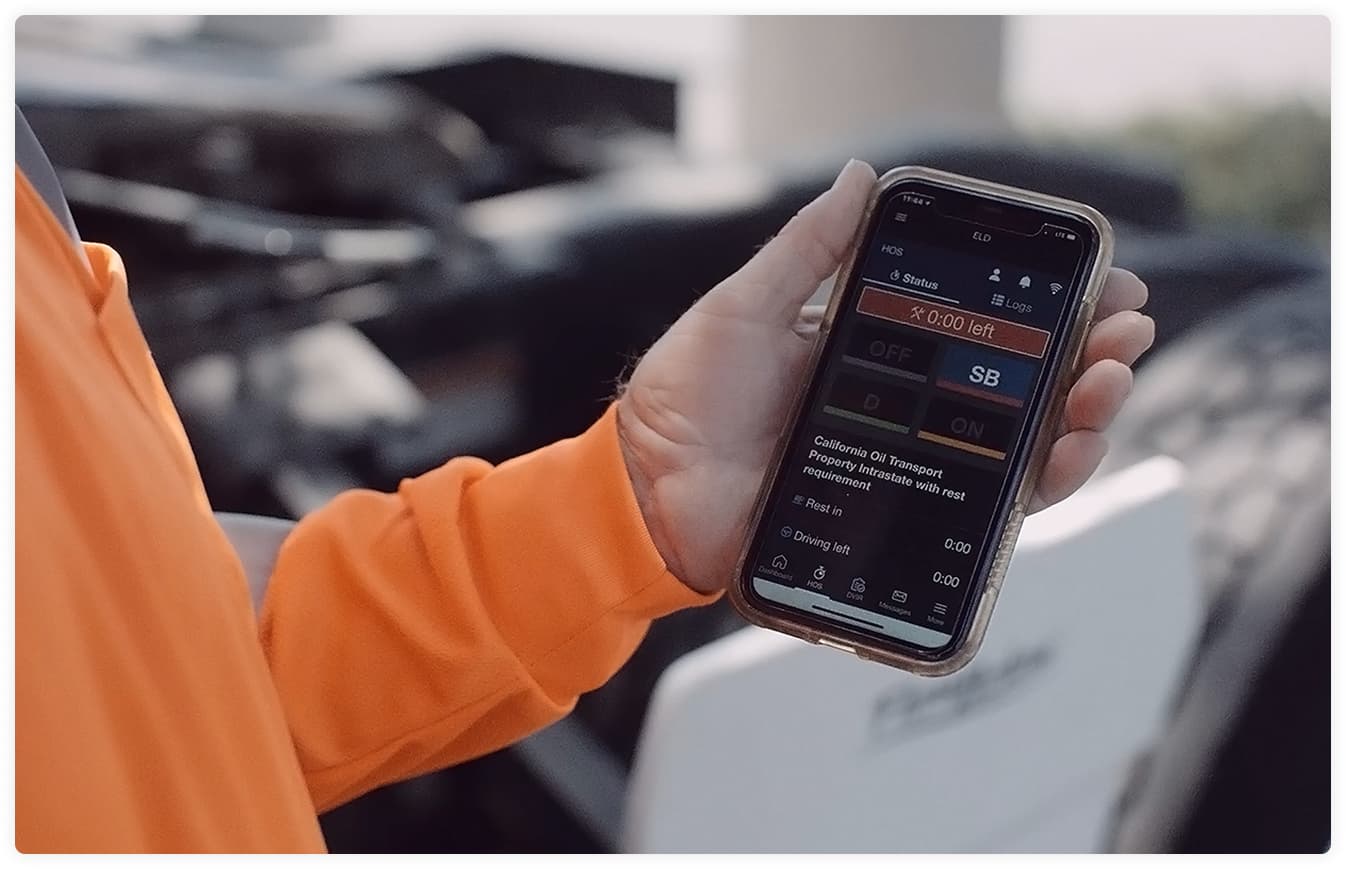 Electronic logging devices (ELD)
Our FMCSA-compliant ELD compliance solution leverages our DriveCam® device equipped with an ECM connection, meaning that you don't have to install extra hardware in the vehicle. Drivers use a convenient app on their mobile devices to help ensure they stay in compliance with federal mandates.
PRODUCT DETAILS
DVIR management
Our DVIR Management service helps you streamline electronic and paper DVIRs, providing a single platform to view all files. The system helps you easily identify inaccurate or missing data, saving you time while increasing your compliance with FMCSA regulations.
PRODUCT DETAILS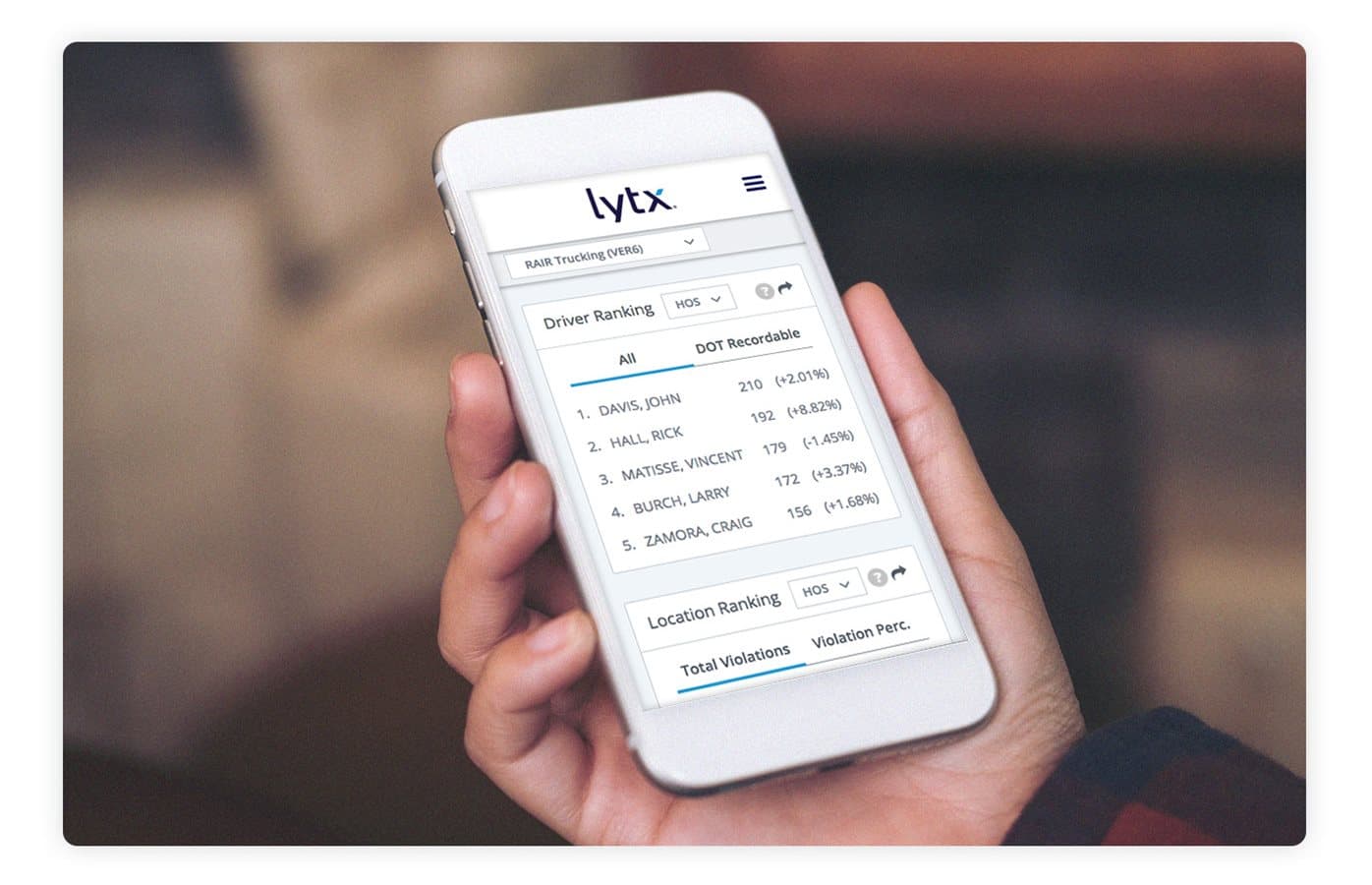 Hours of service (HOS) management
Whether your company uses ELDs, paper logs, time sheets, or all three, our Hours of Service (HOS) system audits and compiles all HOS records in a single system, providing an online source of truth to help you track your drivers' DOT compliance.
PRODUCT DETAILS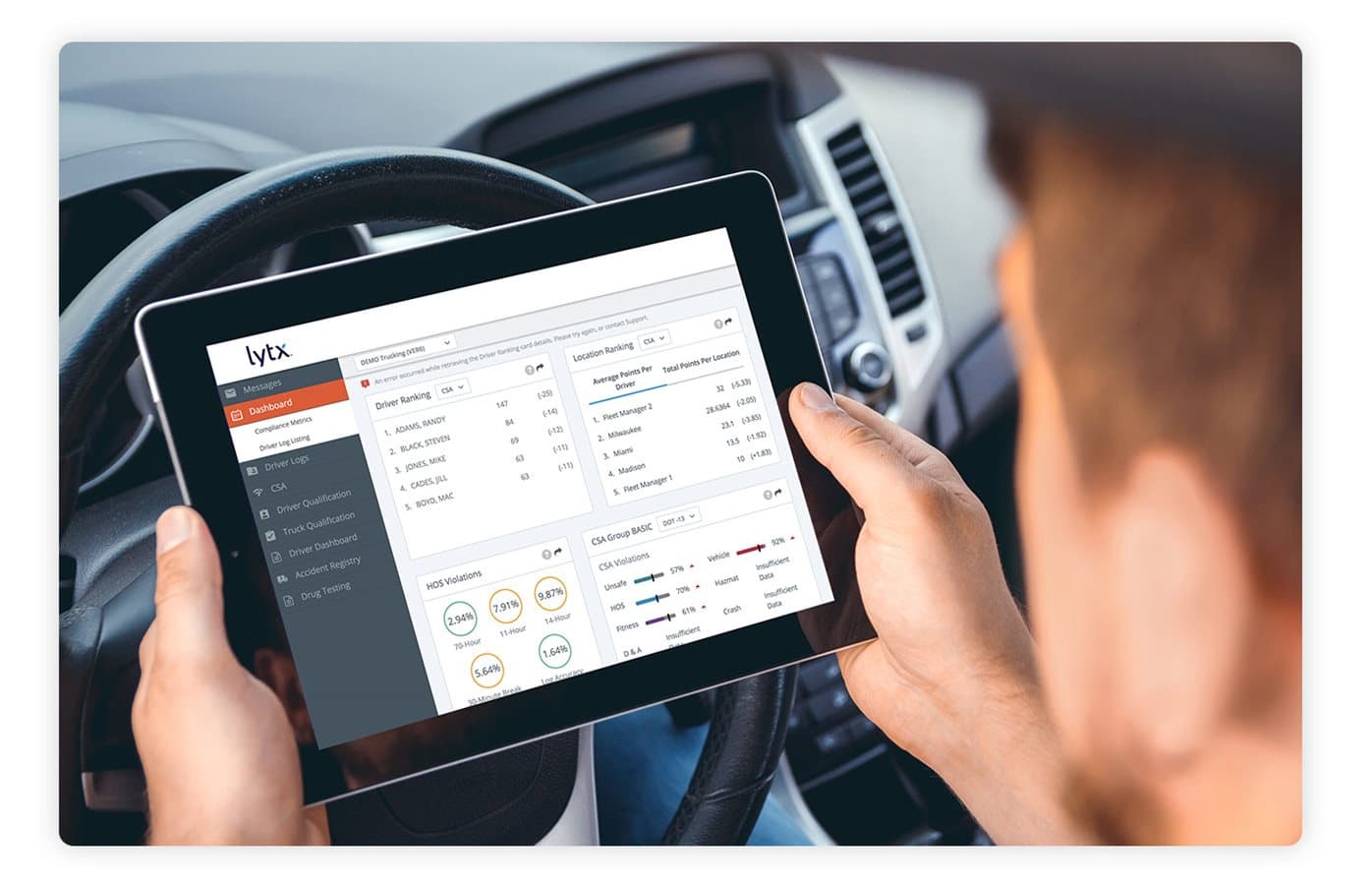 Audit driver qualification files
Our DOT compliance service audits transportation safety requirements and company-specific documents to provide a comprehensive compliance program that includes alerts and reports to help maximize productivity and reduce risk. Start auditing your driver qualification files and keep qualified drivers on the road.
PRODUCT DETAILS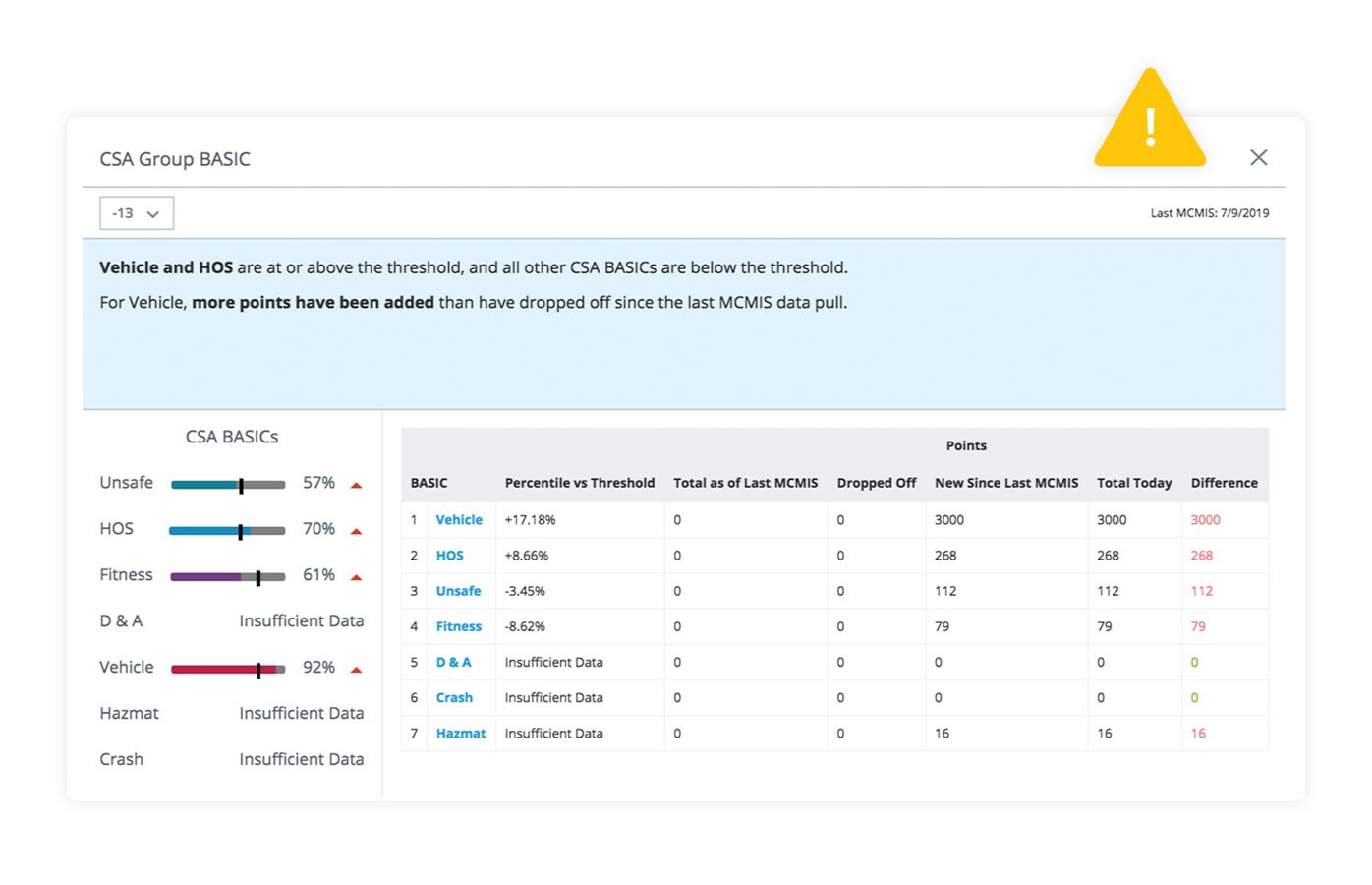 CSA data analysis
Get a clear view of what's causing CSA violations so you can take focused action to improve your CSA scores. Our system helps you analyze data down to the driver level so you can target coaching and training where risk is greatest.
PRODUCT DETAILS
"If there was one technology I could have had throughout my 32 years in the transportation business, [Lytx] would be it. It's another set of eyes. It's proof. It protects the driver. And it protects the company."
Jerry Welsch
Safety Manager A.D. Transport Express
"Through the [Lytx Compliance Services] system, our CSA scores are more visible to all trucking locations. Directors, managers, supervisors, as well as upper-level executive management are able to gain a clear and quick view of our trend lines and where we have improved. Because of this, our Vehicle Maintenance scores have dropped by 80% over the past year and a half. [Lytx] makes it all manageable, visible, and assigns accountability."
Risk Manager Medium Enterprise Energy & Utilities Company
"Lytx forecasting tools are the only way we can access FMCSA data in a timely way. It really empowers us to catch a compliance-related issue early and implement a plan of action."
Leslie Stout
Director of Safety CalArk
Frequently asked questions
We help deliver safety, success, and peace of mind for customers just like you.
Lytx protects fleets across multiple industries. Learn more about how we're helping to improve safety at companies like yours.
THE LYTX DIFFERENCE

Service
Our team is invested in your success. We work with you to help ensure that your company achieves extraordinary results, from configuring the right solutions to meet your business needs to helping you get the greatest return on your investment. We're always expanding by listening to our customers and using their input to shape our next generation of features and capabilities.

Innovation
Our machine vision and artificial intelligence are powered by a robust driving database (221 billion miles and counting), resulting in connected, accurate, actionable insights that keep fleets safe, on-schedule, efficient, and productive. We continuously evolve to deliver cutting-edge updates that help customers simplify processes, save time, and focus on driving results for their business.

Leadership
For more than 25 years, Lytx has been a leading provider of complete fleet management solutions. We're focused on addressing all of your fleet needs, all in one place, with all together powerful solutions. We help fleets identify risk, stay safer, optimize efficiency and gain greater productivity. Our smart, simple hardware, software, and API integrations provide a single, consolidated view of your fleet.