Press Release
Lytx Congratulates Winners of 2023 Driver of the Year and Coach of the Year Awards
Safety standouts honored in annual award program for their impeccable driving records and commitment to safety and service
SAN DIEGO – February 8, 2023 – Lytx® Inc., a global leader in video safety solutions, today celebrated the best of the best with its 2023 Driver and Coach of the Year awards. Each of these winners demonstrated a commitment to using Lytx's safety technology to advance their driving and customer service skills while improving their companies' leadership by serving as peer mentors and instructors.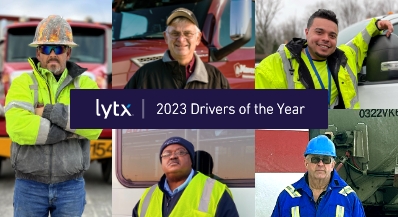 This year, Lytx selected the winners and runners-up of the Driver of the Year and Coach of the Year from five different categories: Services/Utilities, Transit/Motor Coach, For-Hire Trucking, Private Trucking, and Waste/Construction. These awards recognize the dedication of these drivers and coaches to achieve their companies' safety and operational goals, while staying accident-free using the Lytx Driver Safety Program.
"We applaud these deserving drivers and coaches for their continued efforts and commitment to making the roadways a safer place for everyone," said David Riordan, Lytx's Executive Vice President and General Manager, Enterprise. "Each year we conduct these awards, we are captivated by the incredible stories of our transportation professionals, reminded of how valuable they are to our communities, and humbled that they chose Lytx to help train and execute their safety improvement programs."
Lytx technology analyzes over 221 billion miles of driving data – more than any other solution on the market – and uses it to fuel the Lytx Driver Safety Program, which combines machine vision, AI, and coaching to accurately detect and correct risky and distracted driving behaviors. As the global leader of video safety and telematics for commercial and public sector transportation fleets, Lytx harnesses the power of video to give drivers and fleets the tools needed to help them improve their safety programs and succeed on today's roadways.
**Winners – 2023 Driver of the Year**
Services/Utilities
First Place Winner – Mario Lopez, Jr. (Fairfax County DPWES Stormwater)
Mario, a Smith System certified driver, takes pride in never having had a risky driving coachable event, moving violation, or preventable collision in his eight-year career. As a public service worker and emergency responder to storm events, Mario commonly finds himself in hazardous situations and always prioritizes safety. He spends time mentoring younger drivers in Fairfax County, VA to help them navigate busy suburban roads as a "Behind-the-Wheel" instructor. "My commitment to safe driving comes with the hope that all drivers, pedestrians, residents, and myself return home safely to our families," Mario says.
Second Place – Andrew DeForest (Professional Teleconcepts, LLC)
Third Place – Billy Scott (Sonic.net)
Transit/Motor Coach
First Place Winner – Michael Warner (First Transit Houston RAC)
Michael has been with First Transit Houston for seven years and driving for ten. An active participant in all monthly safety meetings, he also received the monthly Safe Driver Award for having no DriveCam events six months in a row. Passengers regularly send his company messages praising his patient, safe driving and stellar customer service. He is an experienced professional driver dedicated to the transit industry. Michael says, "For me, being a professional driver means I drive for other people…I always try to do my job the way it's supposed to be done, without taking shortcuts."
Second Place – Annie Gonzalez (MV Transportation)
Third Place – Chris Smith (RATP DEV)
Trucking – For Hire
First Place Winner – Sam Landrum (Maverick Transportation, LLC)
Sam has been driving for 35 years, 29 with Maverick. Each time a driver travels a million miles for a company without a single preventable accident, they earn a Million Mile Safe Driving Award. Sam has earned the Three Million Mile designation. To Sam, being courteous is the most important task in maintaining both customer service and company goals. "The key is not to allow things or others to bother you," Sam says. Over the years, Sam says that beneficial technology, such as cameras and adaptive cruise control, have been helpful to all drivers in preventing accidents.
Second Place – Bill Nolan (Old Dominion Freight Line, Inc.)
Third Place – Barney (Conway) Penny (TransWood)
Trucking – Private Fleet
First Place Winner – Keith Whyley (A&K Enns Trucking Ltd.)
Keith has been driving 36 years with no accidents or tickets, winning the 10-Year Safety Award from Federated Cooperatives Limited (FCL) in 2017. For the past 15 years, Keith has been training new drivers for A&K Enns Trucking Ltd., and notes that his driving and coaching success is due to three simple things: "I like to treat others how I would like to be treated. I follow all rules and regulations put out by my company and take all training courses required to do my job."
Second Place – Hector Vega (Vitalant)
Waste/Construction
First Place Winner – Timothy Holmes (Manatt's Inc.)
Tim has been with Manatt's Inc. for two years and driving for 15 years total. Out of 178 concrete delivery professionals, Tim placed in the Top 10 four out of the eight working months in their Lytx rewards program. In addition, Tim had no risky driving events in 10 months and was involved in two instances of exemplary defensive driving that helped prevent a serious accident. A volunteer fireman in two towns, Tim notes: "Ultimately, I want to get home to my family at the end of the day. To be honest, the way Manatt's has utilized Lytx has increased the odds of this happening for me, and for that I am grateful."
Second Place – Regina "Gina" Chacon (Waste Connections)
Third Place – Roy Malfarina (Lambert's Cable Splicing)
"Behind every successful professional driver is an equally talented and dedicated coach," said Jeff Martin, Lytx's VP of Global Sales Strategy. "As a former coach, I have a deep appreciation for the teamwork that goes into the driver and coach partnership. This year's list of winners is representative of the incredible work being done by all transportation professionals who help increase safety on today's roadways."
**Winners – 2023 Coach of the Year**
Services/Utilities
First Place Winner – Randy Stevens (American Medical Response, Southern Virginia)
Second Place – Louis Jackson (Fairfax County Government, DPWES)
Third Place – Bob Bolotniuk (Badger Daylighting Corporation)
Transit/Motor Coach
First Place Winner – Doris Sneed (First Transit)
Second Place – Terrin Stafford (MV Transportation)
Third Place – Abel Desiderio (Illinois Central School Bus)
Trucking – For Hire
First Place Winner – Robert Sams (Hub Group)
Second Place – Kenneth Wasmund (Cargo Transporters, Inc.)
Third Place – Ralph Hamilton (Old Dominion Freight Line, Inc.)
Trucking – Private Fleet
Second Place – Daniel Miller (Evolve Logistics Group)
Third Place – Kevin Mowers (Reyes Coca-Cola Bottling)
Waste/Construction
First Place Winner – Tony Porter (Waste Management)
Second Place – Mitch Priest (Green Team of San Jose)
Third Place – Monica Scott (Dycom)
About Lytx
Lytx is the global leader in video safety and telematics. Our solutions harness the power of video to empower drivers and fleets to be safer and more efficient, productive, and profitable so they can thrive in today's competitive environment. Through the Lytx platform, direct and reseller clients access our customizable services and programs spanning driver safety, risk detection, fleet tracking, ELD compliance, preventative maintenance, and fuel management. Using the world's largest driving database of its kind, along with proprietary machine vision and artificial intelligence technology, we help protect and connect thousands of fleets and 1.6 million drivers in more than 60 countries worldwide. Lytx's Surfsight™ solution for resellers was built from the ground up as a premium product offered at a competitive price to help fleet managers with their day-to-day operational challenges. For more information about Lytx, visit www.lytx.com, @lytx on Twitter, LinkedIn, our Facebook page, or our YouTube channel.
# # #