In 2020, Lytx launched a number of features to help fleets respond faster to incredible market pressures and demands. Now more than ever, our products and integrations can help you make the most of your resources and get more done. From new machine vision and artificial intelligence capabilities that can detect distracted and inattentive driving, to custom behavior scores and valuable enhancements to Fleet Tracking experience with vehicle maintenance insights, Lytx works closely with fleets to help them improve operational efficiency and safety performance.

Here are 10 of our top features launched in 2020 that helped in three critical areas: driver safety and performance, manager efficiency, and fleet versatility.
The driver experience
Driver-powered safety enhancements empower drivers, operators, and technicians to take control of their own safety and performance. These tools include:
1. In-vehicle alerts, powered by Artificial Intelligence (AI)
To help combat distracted driving and address other high-risk driving behaviors, Lytx AI capabilities provide real-time alerts† into risky behaviors such as using handheld devices, inattentive driving, following distance, and not wearing a seat belt -- even without recording. Lytx AI can distinguish the difference between behaviors, for example, the audio for smoking and handheld device are different to clearly identify the behavior being exhibited. These are available with the Lytx DriveCam® SF300 Event Recorder. See how MV+AI can help detect and prevent risk driving in real time.*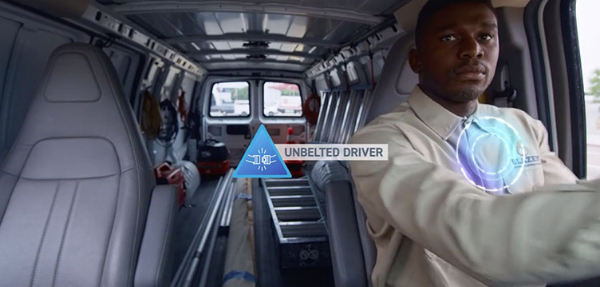 2. Expanded driver engagement tools
Lytx's driver-powered safety solution lets drivers check in to see their own videos and performance statistics at the end of their trips for a new perspective on past events. Lytx launched the Lytx Driver App, a dedicated iOS and Android app designed just for drivers to see their events and performance on the go. In addition to being able to log into their web-based Lytx account, fleets can set drivers up to receive automated, weekly emails of their driving performance without requiring a login.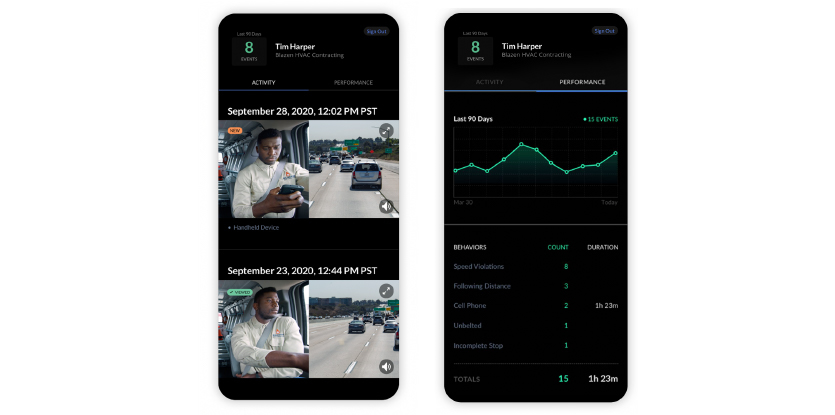 3. Configurable coaching options
Now you can configure your program to coach the drivers that need more attention. Set your own custom score threshold, and drivers who exceed it will be identified for coaching. This can help you focus on drivers with repeat behaviors and save time on those who are optimal performers.
Manager efficiency
We focused on several features in 2020 that helped fleet managers be more efficient so that they have more bandwidth to respond to changing conditions with greater speed.
4. Diagnostic Trouble Codes
Recently released Diagnostic Trouble Codes (DTC) provide additional insights for Fleet Tracking Service customers. Leveraging a new, easy-to-install OBD-II cable option to capture the vehicle's Engine Control Module (ECM) data to help track service and maintain fleet health. This new feature lets clients view vehicle diagnostics, fuel, odometer, tire pressure, vehicle speed, and more to quickly identify and resolve maintenance issues.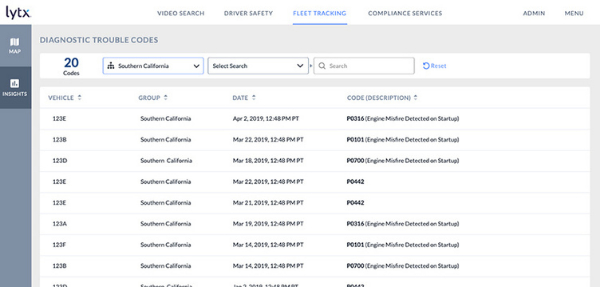 5. New DOT compliance capabilities
Lytx Compliance Services rolled out three new capabilities to help fleets stay compliant with federal and state regulations, including:
Unassigned Drive Time Service: Lytx parses ELD, maintenance, routing, and other data sources to infer which driver was in a particular vehicle at any point in time to stay in compliance with FMCSA regulations.
Driver Log Listing: Managers can see a clean view of fleet violations helping make it easier to quickly understand what actions they need to take. The Driver Log Listing features enhanced color coding, additional information such as driver IDs, error flags, and charts for a top-level view of overall performance.
Limited Drug & Alcohol Clearinghouse Query: As part of the Driver Qualification service, Lytx now offers limited, annual drug and alcohol clearinghouse queries for CDL drivers.
6. Continual behavior reporting
Leveraging Lytx's MV+AI technology, continual behaviors provide a new, more holistic view of driving behavior. While events provide a sampling of behavior, continual behaviors can reveal extended durations of a behavior including the total amount of time the driver engaged in the behavior, as well as the percentage of drive time. This feature is available for clients with SF300 with MV+AI enabled and driver assignment through a dispatch API, Lytx Badge, or one-to-one vehicle assignment.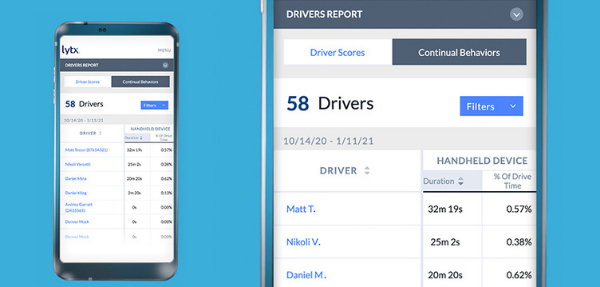 Fleet versatility
Recognizing that fleets need the ability to do more with fewer resources, Lytx develops solutions that could give companies the flexibility to reconfigure their priorities as needed – or add new services through more seamless integrations.
7. Configurable event creation and notifications
Fleets can control when MV+AI events are created to better meet their fleet needs as well as focus on new priorities that emerge as conditions change. For example, managers can establish thresholds for when they want drivers to be notified of risks, such as when cell phone use exceeds a certain number of times or a percentage of a single trip.
8. Expanded integrations
Lytx has a long history of providing integrations to enable leveraging of Lytx data and insights in other applications. We recently launched the Lytx Integration Network, a group of selected integration partners to help with key needs like ELD, driver training, robust scheduling, dispatching, and more. There are several integration partners Geotab, Fleetio, Idelic, and many more.
9. Video browse in fleet tracking
The Lytx Fleet Tracking Service now includes Video Browse. Video Browse integrates telematics information, including location, speed, and links to video directly from the fleet tracking map.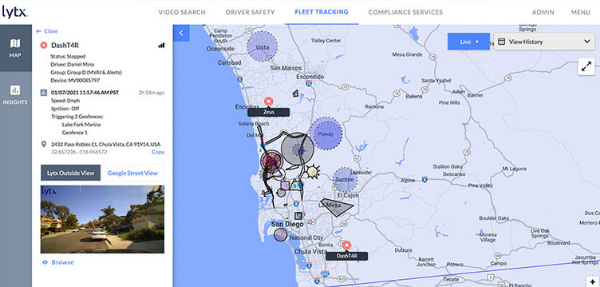 10. Lytx Lab
Our innovative Lab space gives client users with select roles the ability to take part in experimental products and features. The first feature launched is Route Risk which provides a heat map of potential risk in select cities in the United States powered by Lytx's network of over 600,000 installed devices. Clients may want to use this map to help guide routing decisions.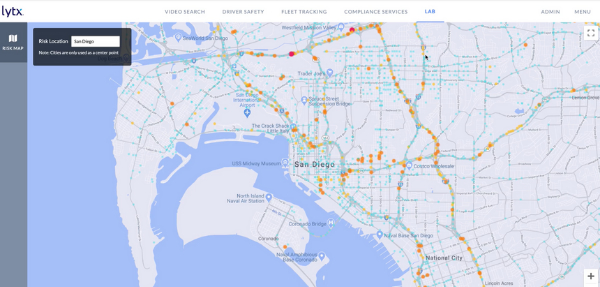 While 2020 was a historic year, we at Lytx look forward to working even harder in 2021 to ensure that we continue to innovate ways that deliver value, while offering flexible, configurable solutions that our clients need as the industry evolves. .

Ready to see how these tools can help you in 2021? Schedule a free demo to try our solutions for yourself.